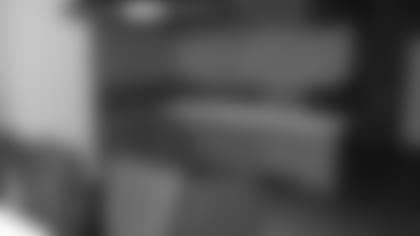 As the opening of Cardinals Stadium draws nearer, azcardinals.com will continue to look at some of the unique features fans will be able to enjoy when they are cheering on the Cardinals this season and for many years to come. This week, we take a look at the premium Lofts at Cardinals Stadium.
All premium Loft guests will enjoy incredible views of the field in a unique stadium environment. The lofts are well appointed with the finest amenities, services and benefits of any sports venue in the country. They are designed to be set apart from other stadiums and arenas in the Phoenix area.
The Lofts are undoubtedly first class from the moment you walk through the Private Club
and Loft entrances. They offer speedy access directly to the Premium Club Lounges that guests will have access to two hours prior to kickoff.
Each Loft is very spacious, presents a private restroom and also offers catering service to loft guests. Also for each guest that attends the game in a loft, he or she will leave with a premium souvenir.
Additionally, the Lofts are equipped with cutting edge technology that will add to the overall game day experience. Each Loft is outfitted with three flat screen televisions which will allow guests to watch the NFL ticket in addition to another television in the seating area which will show the Cardinals game.
During the game fans will also have the ability to stay up-to-date on what is going on with press notes and game programs. On top of those services, fans will also be able to access fantasy football statistics through cutting edge technology provided by Insight.
In addition to Cardinals games, numerous other sporting events are scheduled to be held at Cardinals Stadium like the 2008 Super Bowl, 2007 Fiesta Bowl, and the 2007 BCS National Championship. Loft holders, depending on their lease agreements, have the opportunity to purchase tickets for additional events.
Cardinals Stadium will also play host to multiple non-football events, such as major concerts, equestrian events, soccer matches & exhibitions, motor sports events, public trade shows, private corporate events, social events, festivals and more. All Stadium Loft holders will have the first right to purchase their loft for most events.
The Luxury Lofts at Cardinals Stadium are just another ingredient to this advanced stadium that features a retractable roof and the country's first retractable grass playing field.