After completing their three-day mini-camp on Monday, Cardinals head coach Ken Whisenhunt and his staff, along with players and alumni participated in one of the year's primary events to raise funds for Cardinals Charities as the Arizona Cardinals Football Club hosted the 18th annual Celebrity Golf Classic on Tuesday at Whirlwind Golf Club at Wild Horse Pass.
"Anytime you can get out and do something like this for a good cause is important," commented Whisenhunt.  "I think as part of the NFL and the Cardinals organization it is important for us to participate in events like this that help out our community.  I'm very happy to be out here." 
Prior to the shotgun start, a Coke Putting Contest was held, as well as lunch presented by Outback Steakhouse.
Then over 50 fivesomes hit the Cattail and Devil's Claw courses of Whirlwind.
Cardinals center Nick Leckey was one of many players who participated in the tournament, but he was quick to point out it wasn't because of his golf talent that he described as "hot garbage."
"It is cool to just be out and meet members of the community," said Leckey. "I just ran into the guys I played with last time so it was fun to see them. Sometimes people have preconceived notions about football players so this is a great opportunity to break those myths and interact with people."
For several of the Cardinals' corporate sponsors it is also a tremendous opportunity to meet the players and coaches of the team they graciously support.
"We were teamed up with Larry Fitzgerald today, which was very exciting," commented Rich Fennessy of Insight. "This is our second time participating in the charity outing and we're thrilled to be a part of it."
"I'm so impressed with the organization and the fact they give so back to the community and for Insight to be able to participate in it is a very special thing."
A dinner reception, awards ceremony, raffle, and silent and live auctions followed the tournament.
Each golfer that participated received the Tee Package which included a Ping cart bag, a pair of Adidas golf shoes, a Mizuno Wedge and a Camp shirt.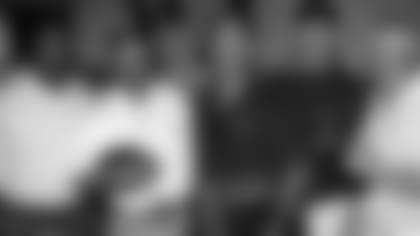 The first place team, Gaudin Ford, led by former Cardinals' defensive back Kwamie Lassiter, won laptop computers.  A set of Mizuno irons was awarded to the second place team, and the third place team received a NFL golf bag for each member of the group.
Other prizes were awarded for closest to the pin contests, which included a built in barbeque, a plasma television, a Taylor Made driver and a custom car stereo system.
Founded in 1990, Cardinals Charities supports programs designed to improve the quality of life and enhance opportunities for children, women and minorities in the state of Arizona. Since its inception, Cardinals Charities has distributed over $3.5 million to over 300 charitable organizations.