Cardinals linebacker Gerald Hayes can't quite bring down Chiefs running back Larry Johnson during Saturday's preseason game in Kansas City.
FLAGSTAFF – It's as simple as football gets: Blocking and tackling.
After two preseason games, Cardinals coach Ken Whisenhunt wants his team to improve on both.
The tackling is the most obvious, and Whisenhunt wants it better for both his coverage units and on defense. Chiefs running back Larry Johnson had a good night against the Cards, but the Cards could have cut down on the damage had they been able to bring Johnson down on first contact.
The issue also was noticeable in the Saints' game, when Robert Meacham's 60-yard catch-and-run for New Orleans should have been stopped if not for missed tackles, including a sideline attempt by cornerback Michael Adams.
Fixing the problem when NFL teams rarely try live tackling in practice is another
[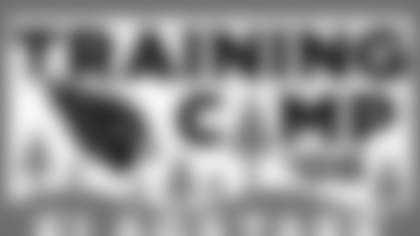 ](http://www.azcardinals.com/news/training_camp.php)
"When you are forming up on a player in practice, you have to make sure you are in the correct body position, that you're not just tapping him, you are bending your knees and getting ready to tackle," Whisenhunt said. "You can do some of it with the dummies and with individual drills, which we work on. I just think it needs to be more of a mindset in the focus of our team."
The blocking issues Whisenhunt had were mostly with receivers, who lacked consistency against the Chiefs. Whisenhunt broke into a knowing smile when the subject was brought up, noting that the receivers had already heard about it from coaches during Monday morning meetings.
"It is a little bit easier to block guys in practice than in the game," Whisenhunt said. "There is going to be an adjustment period for live-game action."
Whisenhunt said some of it was technique. One wideout ran past an obvious defender he should have blocked in order to block another guy further downfield. Whisenhunt was quick to praise blocks by Larry Fitzgerald and Jerheme Urban, emphasizing it wasn't all bad.
"I just think it is an area we have to clean up," Whisenhunt added.
LEINART TO START IN OAKLAND
Whisenhunt said "nothing has changed" as far as the quarterback situation and that it remains "a process." Matt Leinart will start against the Raiders and the plan is for Kurt Warner to come in during the second quarter and possibly after the half – with the two quarterbacks simply switching their roles from the Kansas City game.
Whisenhunt said he didn't think it was necessary for one quarterback to get the majority of the plays despite it being the third preseason game, long considered the "most important" preseason game.
"In this situation, I would expect both of our quarterbacks to be able to play without a great number of reps because of their experience in this offense," Whisenhunt said.
Leinart continued to downplay the competition, shaking his head at the idea every throw from both quarterbacks is being broken down and analyzed by media and fans.
"As a football player, that's not really how it works," Leinart said. "There are going to be bad plays. No one is perfect. You are not going to throw a great ball every time. If I worried about that I wouldn't be playing football."
PATRICK GIMPY, ROLLE STILL OUT
It turns out safety Antrel Rolle has a dreaded high ankle sprain, an injury that usually lingers. As a result, Rolle won't return to practice before next week at the earliest. Tight end Ben Patrick suffered a high ankle sprain himself against the Chiefs, so he too is expected to be out for the next week or two at least.
Defensive tackle Darnell Dockett (pectoral) practiced Monday. Wide receiver Early Doucet (hamstring) and linebacker Monty Beisel (back) were in practice as well, although both will ease back into their reps given their extended absences.
Earlier in camp, Whisenhunt said Deuce Lutui was in a battle to hold on to his starting right guard job with backup Elton Brown. Brown played a little left guard in Kansas City in relief of Reggie Wells, but Whisenhunt said Monday Brown could still beat out Lutui for his job.
"Deuce has showed signs of making good plays but then he will have one or two plays a game that are just not acceptable," Whisenhunt said. "Elton is making a strong push."
This article has been reproduced in a new format and may be missing content or contain faulty links. Please use the Contact Us link in our site footer to report an issue.