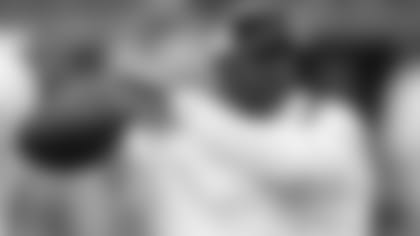 * *Dedric Ward is the Cardinals' offensive quality control coach.
Q: Walter H. Richters asked ? I have seen our players on their good days and their bad days.  I expect it causes you to be frustrated when they make mistakes that should be basic ball handling or basic defensive activities and it turns into a penalty.  Is there any way to get into a players mind that they can?t make emotional mistakes?
A: I think it?s definitely a unique situation to try to put yourself in the player?s perspective, in terms of what they?re thinking or how they?re going about their daily routine. It?s a definite challenge for a staff but I think the staffs that are successful, are the ones who can put themselves in the players perspective. This is important on game day when there?s a lot of emotions flying around, and it?s definitely a challenge for a coach.
Q: David Pike of Jacksonville, FL asked ? As a graduate of Northern Iowa, did you play with Kurt Warner?  What was it like to play with Kurt at UNI and now be coaching him in the NFL?
A: Kurt was definitely a decent player then. Him being a fifth-year senior and me being a true freshman coming in, there were some differences in levels of maturity.  I think he was a lot more mature than what I was at the time. I was fortunate enough to have a player like that take me under his wing, and throw me the ball a number of times.  Everybody thought he was some big star in college, but he was a humble guy, a guy who didn?t have the opportunities that many people would?ve thought he?d have. Fighting his way through the things he?s done is remarkable.  There?s a lot of challenges he faced in doing that, and for him to get to where he is now is awesome.  I know he has put in a lot of hard work and dedication in order to get where he is now. I?m very fortunate to have been a part of that. Being on the other side coaching him and I have a lot of gratitude and respect for him considering where he has come from.
Q: Judy Beatty of Sun City, AZ asked ? What role does a quality control coach play on the staff?
A: It?s no different than any other coaches on the staff.   Obviously you don?t have your own position, so it?s a little more challenging, but it?s a little more flexible at the same time.  What I mean by that is you?re kind of working with a wide spectrum of positions, and you?re trying to get the overall perspective of what?s going on.  I do a little more behind the scenes stuff in terms of breaking down film, building filters, preparing cut ups for coaches so they can look at certain plays.  I also print out percentages in terms of tendencies for our team as well as opponents.  It?s a very important job, although it?s not a very high-profile job. I think you take the same successes and failures as the other coaches do, but you don?t have your own position to yell at your players as much.
Q: Vic Acklin of St. Louis, MO asked ? Is the quality control posotion a new innovation in football? How does it differ from an offensive coordinator?
A: I think this is something that most teams employ.  Some teams have more offensive assistants and other teams have what we have.  It?s all very similar in terms of the tasks that are required to be performed.  Every team has one in capacity; some teams have more than one to split up more of the duties.  In this organization we do have one offensive and one defensive quality coach.  It?s tremendously different than what the offensive coordinator job is.  The offensive coordinator?s job is to coordinate the entire offense or defense and call the plays on game day.  I report to the offensive coordinator.* *
Q: Trish Sutter asked ? With all the receivers we have what?s the advantage of putting Antrel Rolle at receiver?
A:  We?ve seen what Antrel what Antrel can do with the ball in his hands, and he?s returned numerous interceptions for touchdowns in his career.  As an offensive coach you look at him and think if we can get the ball in his hands he has the ability to create big plays for us.  I think that we?ve shown that we have the flexibility to put defensive guys on offense this year.  Antrel?s a guy who shows a tremendous ability to take a short pass the distance.
Q: Tim Rial of Carroll, IA asked ? How is it that so many players from small schools have gotten an opportunity to play in the NFL? Are teams more receptive to small college players these days?
A:  I definitely think it?s turned into a trend for smaller college guys to have the opportunity to play in the NFL.  As I told guys that I coached in the past at that level, if you?re talented and you do what you?re expected to do, an NFL team will find you. If you?re a productive player, and you show some signs of speed and strength and you have the intangibles, then eventually a team will find you.  There?s definitely been a growing trend because the ones who came before for them have had such great success.  I think playing on the field is more important than being at the big school and not playing.   For me personally, I had scholarships offers that fell through going to bigger schools.  For me it was about going somewhere I knew I could play right away.  Fortunately, I went there (Northern Iowa) had some success, and played with guys who had been successful in the past like Kurt Warner.   I went in there did what I had to do, kept my nose clean, and got an opportunity to get a good education and play football.  At the end of the day NFL teams were coming in and looking at me, which led me to believe no matter where you play, they?ll eventually find you.
Q: Clinton Battle asked ? I am a sophomore in high school and I would like to know what is the best way to train and prepare to maximize my potential?
A: First and foremost you need to have dedication, energy, and time to put into the game.  If you feel strongly enough about it, and you put in the time and energy, then it should lead to success. I was always a smaller guy and growing up people said I wouldn?t make it because of my size. I think that was kind of my motivation as a kid.  I knew in my own heart, if I put my mind to it and outworked everybody I?d succeed. Have the mindset that you?re going to outwork everyone else.  Continue to work at it and eventually good things will come.* *
Q: Aleksandra Niemyjska asked ? What road have you taken to get to this point your career?  What is your ultimate goal?
A:  After my playing days were over, I ran into some former coaches of mine who encouraged me to pursue coaching. At the time I wasn?t really sure if this was something I wanted to do with my life.  My college coach took a job at Missouri State as the head coach and I spoke to him on the phone.  He told me he?d love for me to be a part of his staff.    At the time I was still unsure where my career was going to go in terms of getting into coaching profession.   I decided to go down there and sit down with him.  We had a good discussion and I took him up on his offer.  I was there for a year which was a great experience for me.  I got to coach a lot of young men who were eager to learn from me. I made the transition to the Cardinals when Todd Haley took a job with the Cardinals as the offensive coordinator. Todd coached me while I was in the NFL so I was brought in for an interview and the rest is history. Now I?ve been here for two years and I?ve had the opportunity to learn what it takes to be a great coach.  A lot of coaches on the staff have taken me under their wings and shown me what it takes. As I continue to learn and progress, this is a field I?ve grown to be excited about.  I don?t know where this is going to lead, but my next step would be to coach my own position.  Obviously if that goes well I?d like to become a coordinator and maybe a head coach one day.
Q: Allie Brezinsky of Scottsdale, AZ asked ? If you weren?t coaching football what would you be doing?
A: I?ve always been excited about working with kids.  Throughout my playing days I gave back to the community.  I ran a football camp for 10 years which was something I was proud of.  I love going back home (Cedar Rapids, Iowa) and giving back to the community. I want young kids to know that whatever their hopes and dreams are, they can be fulfilled.  You just have to have dedication, time, energy, and a good work ethic.