Lance Long is hoping to beat the odds and make the Cards' final roster.
Lance Long is a walk-on again.
He's been there before, and in some ways, that makes his current turn as an undrafted rookie receiver with the Cardinals a little easier with which to deal.
Once, Long had spent a year at the University of Toledo and, while it wasn't bad, it wasn't him, either. He had a dream to play college football in the Southeastern Conference, and he had a friend playing at Mississippi State.
So he went to Mississippi and walked on. By the time he was a junior, he was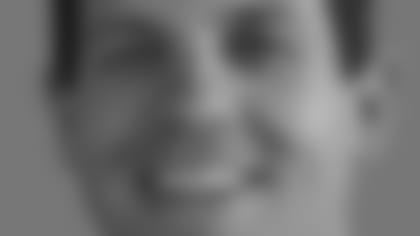 given a scholarship. He had made it.
Now, as the undersized (5-foot-11-ish, 186 pounds) underdog sweats out the triple digits of the Arizona offseason during rookie conditioning workouts, he's hoping the scenario can play out the same.
"I just want to play football," Long said. "That's all I want to do."
There are 10 wide receivers on the Cardinals' roster. At most, the Cards figure to keep five or six. Right now, Long couldn't be considered higher than ninth or 10th on the depth chart.
But look at the odds he apparently has already overcome to get to No. 10 on the Cardinals.
Pro Football Weekly's 2008 draft guide listed 127 potential picks at wide receiver. Long's Mississippi State teammate Tony Burks is listed. So is Mississippi College's Jake Allen (Burks is unsigned coming off knee surgery; Allen is an undrafted rookie with Green Bay). Long is not.
NFLdraftscout.com, which ranked more than 300 prospective available wideouts, did not rank Long on their lengthy list.
Fifteen catches (all Long had as a senior) tends not to get you noticed. But he had an "in" in Arizona, where tight ends coach Freddie Kitchens saw him up close and personal every day as a member of the 2005 Mississippi State coaching staff.
And Long said his pro day, where his raw skills and speed could be measured with a stopwatch, gained some attention.
"You are always going to have people that doubt you, always have people talking bad about you. That's life," Long said. "You can't pay attention to that. You can only do what you can do … (and) there is no greater pleasure in life than to prove people wrong, of course."
In the jersey-and-shorts world of offseason workouts, Long was noticed. His hands looked sound. His speed was better than expected. He received unplanned opportunities with Jerheme Urban sidelined with a foot injury, Anquan Boldin absent and Jamalle Cornelius dinged.
That Long could make some plays wasn't surprising, said receivers coach Mike Miller, but Long's consistency was.
"He's made some mistakes, but one thing he does, he is focused," Miller added. "He is dedicated and prepared and he goes 100 miles an hour out there.
"You can see him being relentless, and that's how he has to be."
Long was not a punt returner in college, but this week he stayed out in the heat after a conditioning workout fielding punts. Special teams would be Long's way into the league, and he isn't that much smaller than a similar long-shot story on the Cards' roster, fellow receiver and special-teams standout Sean Morey.
Long isn't naïve. He knows where he stands, what he is up against. Whatever he has accomplished can be wiped away with a weak performance once the pads are put on – and that's only if he can get some reps in training camp, being so far down the depth chart.
Yet it doesn't faze him in the least.
He smiles talking about this chance. Deeply religious, he mentions multiple times how he is "blessed." And again, he's been here before.
"This is a dream come true," Long said. "Even though the dream isn't totally fulfilled, it's a dream and I love showing up every day."
This article has been reproduced in a new format and may be missing content or contain faulty links. Please use the Contact Us link in our site footer to report an issue.