Darnell Dockett waves the towel proclaiming the Cardinals NFC West champions after Arizona beat St. Louis, 34-10, Sunday.
It was safe by then, after Dominique Rodgers-Cromartie had raced 99 yards for a touchdown and the Cardinals had gone ahead by 24 points with three minutes left, so Darnell Dockett brought out the towel.
The message was simple, really, yet brought out a huge cheer as Dockett turned his back to the field and held it up to the crowd. "NFC West Champs" it proclaimed, and yes, the Cardinals were finally that.
Hammering the Rams – by a 34-10 score – was what a playoff team should do. The journey took a little longer than anyone would have wanted. But to reach the goal at home, in front of former players on alumni weekend, in such an emphatic manner that the details didn't mean much.
Veteran defensive end Bertrand Berry – who took a massive pay cut to stay on the roster – was in tears when it was over. He and quarterback Kurt Warner embraced on the sidelines, not long after fullback Terrelle Smith and Dockett dumped a barrel of Gatorade on coach Ken Whisenhunt.
"I was excited to get a bath," Whisenhunt said. "That's one of the things, I guess as a coach, you dream about."
When the numbers are thrown around as much as they had been the past couple of weeks, from the last time the Cards won a division (1975) to the last time the team hosted a home playoff game (1947), the impact is hard to miss.
The players understood. Veterans like safety Adrian Wilson, the longest-tenured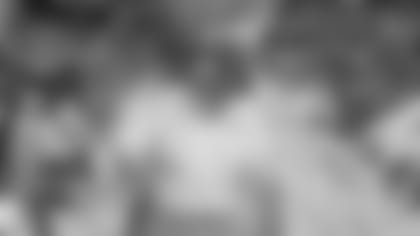 Cardinal drafted in 2001, or the players left from Dave McGinnis' last season like Anquan Boldin, Gerald Hayes, Reggie Wells and Neil Rackers.
In case anyone wasn't sure of the franchise's drought, there was Jim Hart – quarterback of the Cards the last time they won a division – on the sideline as the clock wound down, congratulating some of the current players.
For the newer Cards who have yet to play for a loser in Arizona, they got the message.
"I really got faced with the history," said wide receiver Steve Breaston, drafted in 2007. " 'When was the last time …' I got faced with a lot of facts this week."
The Cardinals could have done this in Philadelphia. It wouldn't have been as electric as it was in front of the home fans Sunday, but it would have been just as sweet, which is why the players were so angry at their performance against the Eagles.
Facing the undermanned – and likely undermotivated – Rams, there was little question the Cards were going to dominate Sunday, especially after easily going down the field for a touchdown on the first drive.
Dockett, in fact, saw it in the locker room before the game. Seeing how serious and business-like his teammates were to finish their chore, Dockett said he sneaked to the corner of the locker room and broke out a pen.
He etched his message on the towel and folded it up so no one was the wiser.
"Every four or five minutes of the game, I'd check on it because I didn't want anyone to use it," Dockett said. "I'd look back like, 'Be still now. I'll get you out in a minute.' I couldn't wait. That's what it's all about."
Still, there was a line the Cardinals walked Sunday afterward. A division championship is one thing. Winning in the playoffs is another.
"Around the locker room, you can see we are all elated to have gotten this done," Wells said. "At the same time, everyone knows we can really do some damage in the playoffs. There weren't any champagne bottles in here."
Said team president Michael Bidwill, who was sporting a Cardinal red sport coat, "Winning the division was important and obviously something significant but it's a start. We have a lot more work to do."
As a game, only the score was pretty Sunday. The Cardinals have produced better games statistically both offensively and defensively, and it was clear the Rams are limping to the finish line. With the next two games against probable playoff teams Minnesota and New England, stronger tests await.
But after two straight losses, no one cared.
After a too-long playoff drought, no one should have cared.
"You get a nasty taste in your mouth, like waking up with morning breath and immediately you want to go put some mouthwash in so you can get that taste out of your mouth," Smith said. "Your wife doesn't want to kiss you, your kids don't want to play with you. That's kind of how we felt the last two games. After this, I think we took a big swig of that Scope mouthwash and washed all that bad stuff away.
"Now you can crown us champs."
This article has been reproduced in a new format and may be missing content or contain faulty links. Please use the Contact Us link in our site footer to report an issue.