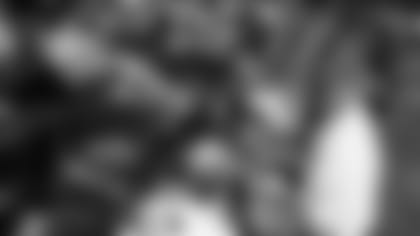 Coach Ken Whisenhunt signs autographs for the huge crowd after the Cardinals' first training camp practice Friday.

FLAGSTAFF – First was Bertrand Berry, than Anquan Boldin, then Friday, Darnell Dockett took his turn.
With words and a theme that seems to bode well for the 2009 Cardinals, Dockett became the third of the trio thought to have issues with their contract to come out and downplay any problem. Dockett, of course, had announced on his Twitter account weeks ago he was going to focus on football. But to have him talk about it live with the media horde reinforced his mindset.
"I understand the situation," Dockett said. "I don't even want to talk about contract stuff right now. I just want to focus on my team."
On reporting day, Berry insisted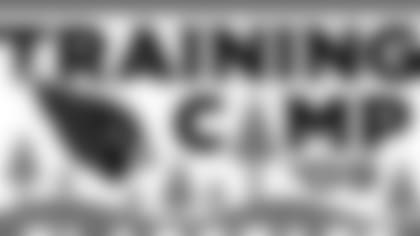 his absence from offseason work was not because he wanted a new contract. Boldin wants a new contract, but after the run test, insisted he wasn't going to let his contract issues affect his happiness or play.
Dockett said he thinks his contract – he still has three years remaining on his current deal – will be re-done "at a good time." Coach Ken Whisenhunt said Dockett and general manager Rod Graves had a meeting so Graves could explain the organization's plan and that "it meant a lot to Darnell."
Saying his "passion" is football, Dockett said that's all he was thinking about. He also believes that the tact taken by both Boldin and himself about the contracts is the proper way to go now that training camp has arrived.
"When you start worrying about contract stuff and all that stuff, it slows you down and takes you away from your game," Dockett said. "You can get hurt like that, thinking I'm not going to go hard this play because I am mad about x, y or z and you hurt yourself. The contract issue will be addressed at a good time. Right now we just want to get everyone in tune for this first preseason game."
Not surprisingly for a team coming off a Super Bowl appearance, the Cardinals saw easily their biggest first practice crowd when they arrived at the NAU fields Friday.
"This is huge," Dockett said. "That's what happens when you win."
Whisenhunt said he remembers his first practice in 2007, and he figured about 80 fans were in attendance.
"We got past 80 pretty quick today," Whisenhunt said. "It's a completely different feeling, not just on the practice field but also in the town."
The players all said that kind of support helped make practice go a little quicker.
"We are thankful to be in this situation," Dockett said. "I know some of them drove more than two hours to be here and we appreciate that. It means a lot and they are going to ride with us this season. Some of them are good, loyal fans and some of them we just got last year, and hopefully everyone stays and we fill up the bandwagon even more."
Brian St. Pierre got some snaps with the second unit offense instead of Matt Leinart. St. Pierre has said he returned to Arizona as a free agent because he believed he'd have a true shot at being Kurt Warner's backup.
"We will rotate it so we'll get a good assessment of it," Whisenhunt said. "The biggest issue you face with the quarterbacks is getting consistency with the receiver play when you are evaluating the throws.
"Matt did pretty good last year when he was competing with Kurt. If he can continue at that level I'm confident we'll be pleased with Matt."
Tight end Stephen Spach returned to practice about six months after getting his torn knee ligaments repaired, and at one point, he hauled in a pass over the middle much like the one he caught to seal the wild card playoff win against the Falcons.
"I'm not the first guy who has done it and guys have done it faster," Spach said of his return. "But I have put a lot of time in in the rehab room and on and off the field. I just hope it stays good."
Spach will be limited in the second practice on days when the Cards practice twice. …
While Beanie Wells remains unsigned, most of the other rookies began camp well down the depth chart. None took reps higher than third-string.