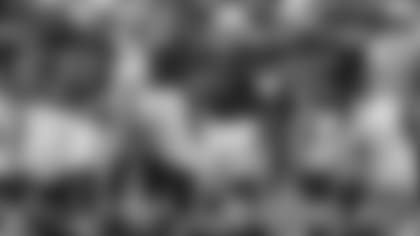 Kicker Neil Rackers comes out of the pile with his own onside kick in last week's game against the Packers.

The emotion got the better of him.
So kicker Neil Rackers, who had just come up with a crucial onside kick by tapping it 10 yards and diving on it himself, got up and spiked the ball – and cost his team a penalty, and his head coach a little more stress.
Then again, the makeup that drove Rackers to spike the ball is the same reason he was willing to jump on the ball in the first place.
"And it's the thing that makes him willing to make tackles inside the 20," coach Ken Whisenhunt said. "The guy is a supreme competitor and a tough physical kid that works hard. But it's just like, when he made a big field goal in the past he'd slide on his knees. You've just got to learn to temper some of that emotion."
For Rackers, that's understood. He called his spike – which came with about 90 seconds left in the Packers' game – "stupid," although it ultimately didn't hurt the Cards. Sometimes, he admits, his emotion helps him. Sometimes, it hurts.
Knowing Super Bowl week could get him worked up, Rackers rented a house in nearby Clearwater, Fla., so he could go fishing every day and get away from the tension of the game.
"I have to keep myself in check every once in a while," Rackers said.
But no one wants Rackers to completely change. He has made many key tackles on kickoff returns the past two seasons and has become king of the onside kick in the NFL. Rackers returned to his status as steady point-maker last season – he scored 119 points in 2008, and of the three field-goal misses he had in 28 attempts, one was blocked and one was a miracle free kick try from 68 yards – but it's the extras that endear him to his teammates.
"You make a field goal and you're watching that on (video) Monday morning, yeah, it's great," Rackers said. "But you make a tackle or make an onside kick, guys get fired up. It's a good feeling as a kicker, because there are times when you go through three or four games with two field-goal attempts, you're not feeling part of the team.
"You want your teammates to be able to know you can play football as well and I take pride in the fact I am not just a kicker."
That was one of the reasons Whisenhunt sought to curtail Rackers' penchant for running off and sliding on his knees after a big field goal, something that is popular with soccer players – which Rackers once was. Whisenhunt explained to Rackers it looked bad, that a field goal could be made only with all 11 players working together.
That made sense to Rackers, who emphasizes how important it is for him to help and not hinder the team with his exuberance. He beat himself up over the Packers' spike, although "I'm not used to having 15 guys piled on top of me gouging me and bending my arms behind my back, all that good stuff," which led to his post-kick exclamation point.
Whisenhunt can let it pass. He sees Rackers attend all the offseason work, sees him put in the time in the weight room, sees him put his body on the line at times and can respect his unique kicker.
Emotions are just part of the package.
"He wears everything on his sleeve," wide receiver Larry Fitzgerald said. "But I really like the way he goes out and performs. Most kickers aren't really into the game like that and seeing him fired up, he's just one of the guys."