The Cardinals are young at many spots on offense, most notably quarterback.
Rookie Kyler Murray is going to deal with a learning curve this season, but he should be aided by a wealth of knowledge on the offensive line.
If A.Q. Shipley wins the center battle, every projected starting offensive linemen will have at least four years of experience heading into 2019. Shipley leads the way with a decade in the NFL, followed by right tackle Marcus Gilbert's eight years of experience, guard J.R. Sweezy's seven and guard Justin Pugh's six. Left tackle D.J. Humphries is the most inexperienced but is still heading into year No. 5.
"Guys that have six, seven, eight, 10 years, that goes a long way, particularly with a young quarterback," coach Kliff Kingsbury said. "That's definitely been a bright spot so far."
Once the ball is snapped, Murray will be on his own in dissecting coverages, but beforehand or on the sideline, the linemen can help him sort through issues.
"(We are) guys he can bounce ideas off of," Pugh said. "We can help him with things we see to help expedite that process."
Kingsbury said the Cardinals didn't go out this offseason aiming to acquire veterans on the offensive line, but that's how it turned out when they traded for Gilbert and signed Sweezy in free agency.
"We looked at the best players we could get out there," Kingsbury said. "We were fortunate to pick up some really good ones, we feel like."
With age can come durability issues, and that remains a concern based on the group's past history. If the linemen can remain on the field together, they believe experience will be an important factor in finding success.
"It's just easier when you've seen it once or twice," Sweezy said. "You can pick it up easier – especially when you are playing beside guys that have done it before."
PETE ROBERTSON IN THE MIX AT OUTSIDE LINEBACKER
There has been little clarity in the race for the backup outside linebacker spots behind Chandler Jones and Terrell Suggs. Brooks Reed was signed in free agency but has dealt with a couple of different injuries that have kept him sidelined. Veteran Andre Branch was a training camp addition, and there are some young players trying to make their mark.
One player that has thrust himself into the mix is Pete Robertson, who was listed as the second-team weakside linebacker in the team's first unofficial depth chart.
"I think he has some real pass-rush ability," Kingsbury said. "Tough player and can give us special teams value. It's a dogfight there at some of those outside linebacker positions. He's a guy that's been consistent, he's been available, and just needs to keep progressing."
FREEDOM AT THE LINE FOR MURRAY
Quarterbacks usually stick to the script as rookies, because the offensive play-caller generally has a better plan against NFL defenses than a player fresh out of college.
Murray, however, has the freedom to audible in his first year. His transition to the NFL shouldn't be as stark because Kingsbury's offense is similar to the one Murray ran at Oklahoma.
"He has a lot of control at the line of scrimmage, to see what he sees and attack," Kingsbury said. "We want him to play aggressively, and take advantage of matchups, leverage and different things he sees."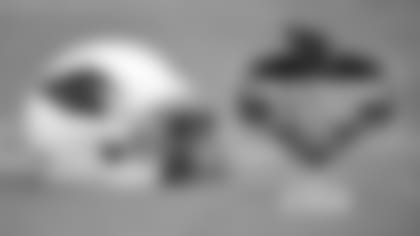 Follow along with all our coverage from camp and find important details about attending open practices on our training camp central page.