The
Cardinals fell into a 16-0 first-quarter deficit against the Rams on Sunday, but rallied behind a strong rushing attack. The offense put together a pair of back-to-back touchdown drives in the second quarter, which were led by several big gains from running back Kerwynn Williams. Despite playing with cracked ribs, Williams finished the game with 16 carries for 97 yards. His longest run was a 25-yarder, which helped set up a touchdown pass from Blaine Gabbert to Larry Fitzgerald to cut the deficit to 16-13. Williams, center A.Q. Shipley and right tackle John Wetzel broke down the long run in this week's edition of Cardinals Film Room.
The situation: The Cardinals had a first-and-10 from their 30 with 5:53 remaining in the second quarter, trailing 16-7.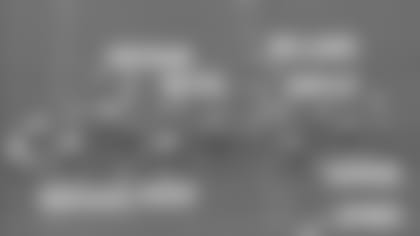 Shipley likes the defensive formation the Rams show: "It was perfect alignment because they're overloaded over here (on the left). Really, once I get this block (on linebacker Mark Barron), the only person (Williams) has to beat is (safety Lamarcus Joyner)."
Williams glances at the second level: "Just (seeing) where the linebackers are, really. Looking at where their placement is early and trying to make sure I keep them in place with my eyes."
Wetzel must figure out who to block: "Since (defensive end Michael Brockers) is inside, I'm technically working with the tight end (Jermaine Gresham) there. He's inside, but I don't want to go too much. I want to give my presence, so I step and gave a hand. Then I shot to the 'backer (Bryce Hager)."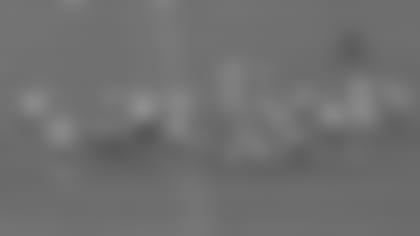 Williams sees a big lane develop: "At this point, I just want to make sure I hit the hole as fast as possible. The guys got on top of their blocks pretty quickly. I didn't want to give the defense a chance to recover."
The linemen do their jobs. Shipley: "They've got them sealed (on the left side), and I tried to do the same thing. I under-set (Barron) and I threw him out. And then you've got a big hole. Same thing (on the right side). They (guard Alex Boone and tackle Jared Veldheer) are both trying to widen and seal the back side."
Wetzel takes advantage of blocking Hager, a reserve fill-in: "He's more reading because Ogletree was out (with an elbow injury) at that point. So I went and got my head across. I felt him going a little back-side, so I turned and hooked him. As long as I could square him up, I'd give (Williams) a place to go. I turned and Kerwynn hit it."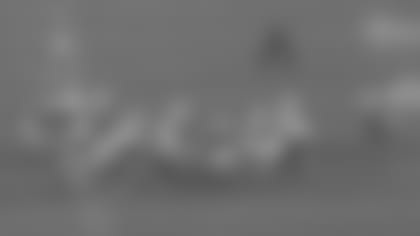 Shipley makes the second-level block look easier than it can be: "You never know what they're going to do. That's the big thing. Some linebackers try to jump around blocks. Some linebackers try to take you on. This one obviously tried to take us on, which is better for us. When they try to jump around you, they're more athletic than us, obviously, so it makes it a little tougher. But this one worked out for us."
Williams knows the play is set up for chunk yardage: "Based on where everyone was at, yeah, I was kind of thinking that. My main thing was to make sure I got through it and was able to get to the second level. And then I wanted to make that second-level guy miss."
It was the second straight series the offensive linemen created big holes. Wetzel: "We were just getting hats on hats and let the running back make us right. We gave him some room, and Kerwynn's a shifty guy. He's hard to see coming through the hole. That sounds funny, but it helps out. We get on our guys and play from there."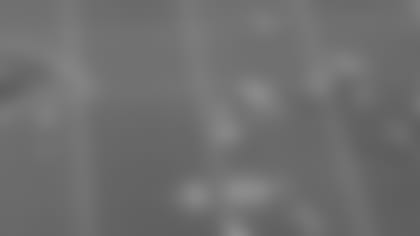 Williams decides how to attack: "When you're running the ball, you always know your trouble is coming from the inside. So when I got through the hole I kind of peeked inside to see what was happening, to see what kind of space I had. You do want to use the majority of the field if you have the opportunity."
Wetzel watches after a job well done: "Anytime you're 1-on-1 with the safety, that's what we want. It was a textbook run."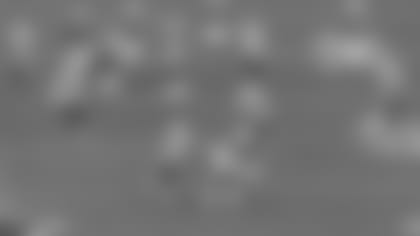 Williams gets past Joyner, which results in several more yards: "I saw the guy coming downhill pretty fast. I got on him pretty fast. I just wanted to hesitate and let him flow past me. You definitely don't want the first person coming at you to make the tackle. That's the biggest thing."
Shipley knows the run game kick-started the offense: "When you stick with the run, it helps everything. When (coach Bruce Arians) is dialing up the runs, we feel good about it, because we can cover up guys, and especially because Kerwynn was running great. When you start going with the pass, they can start dialing up their stuff, which is kind of miserable. If you can stay balanced, you can keep them off-balance. It was great, because they didn't know what was coming. We were running, running, running, running, and then you dial up the pass."