The
Cardinals lost to the Cowboys on Monday night, but Larry Fitzgerald did everything he could to keep his team in the game. The star receiver had a career-high-tying 13 catches for 149 yards and a touchdown. He had back-to-back impressive grabs in the third quarter, but saved his most memorable grab for the fourth. Fitzgerald crashed into Cowboys wide receiver Orlando Scandrick on the play and still managed to hold onto the ball for a crucial 24-yard reception. Fitzgerald, left tackle John Wetzel, quarterback Carson Palmer and coach Bruce Arians re-lived the play in this week's edition of Cardinals Film Room.
The situation: The Cardinals had a third-and-18 from their 33 with 10:39 remaining in the fourth quarter, trailing 21-14.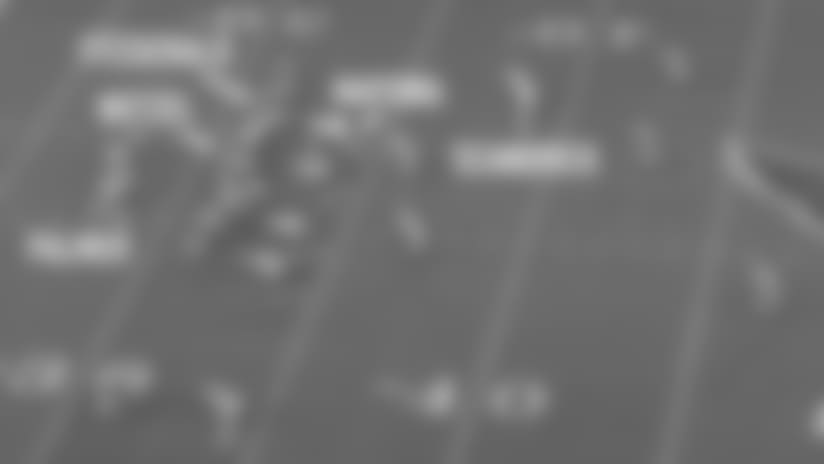 The Cardinals had to regroup after a nearly-miraculous catch by J.J. Nelson was called incomplete on second down. Fitzgerald: "It was deflating to see J.J. not come down with that play. It was a really tough catch for him. When you think you have a 50-yard play, and you have to come all the way back. You're sitting at – I think it was third down and 20."
Wetzel and the offense quickly turn the page: "After the officials make their final call, you've just got to move on. Take it as it is. Go on to the next play and try to get them again."
Cowboys defensive end Benson Mayowa gets chipped by tight end Jermaine Gresham, and Wetzel doesn't think he's rushing: "If he's that far back, I'm thinking – I saw (Gresham) hit him and move out there, so I thought (Mayowa) was carrying him (in pass coverage.) I went in to check inside, and then he started peeling out. I was like, 'Oh, I've got to go back. He's still coming in.' Once they go back that far, it's hard to think they're still going to rush."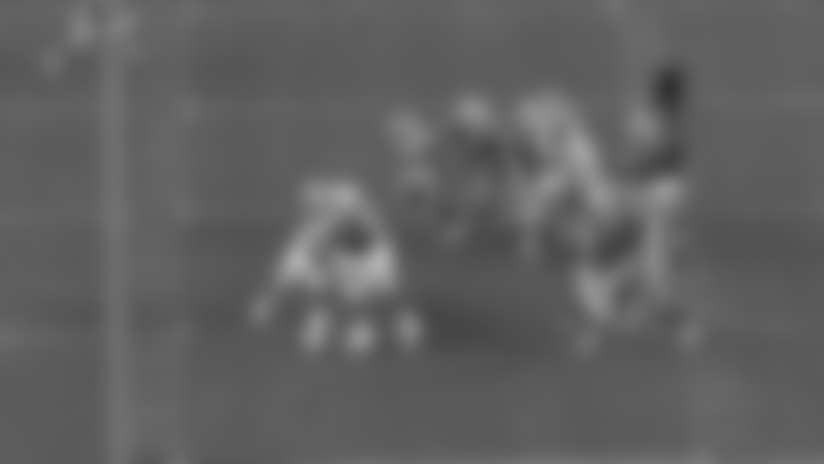 Wetzel realizes Palmer is behind him as Mayowa closes quickly: "I only knew when I saw the angle (Mayowa) started running. If (Palmer) wasn't to the left, he probably wouldn't have rushed like that. That's why I just ran right away. I figured he was set up to the left somewhere. It was a weird play by the D-end. Kind of unconventional. … Good thing Carson got the ball off."
Scandrick is the first to get his hands on the ball, but Fitzgerald isn't giving up: "You just have to compete. You just have to go up there and fight for it and make sure that if you don't get it, he damn sure doesn't get it. We always talk about this, a long time ago when Coach (Dennis) Green was here, those 50-50 balls, it's either going to be a defensive pass interference, you're going to make the play – that's good for the offense – or it's going to be a pass breakup. So, two good things can happen for the offense. An interception is never something that's possible."
On a third-and-long, Palmer likes the risk-reward on a jump ball to Fitzgerald: "We had him in two one-on-one situations with his big body on a small body and I love that matchup, whoever that guy is, as long as he has that size advantage, because he can jump and make those kinds of plays."
Despite the inferior position, Arians knows Fitzgerald has a chance to haul in the pass: "Nothing that Larry does ever surprises me. Especially in crunch time."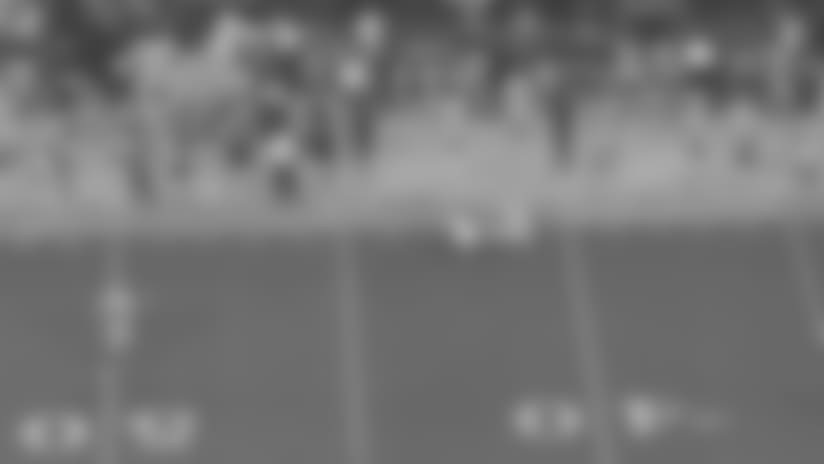 Wetzel watches from the backfield: "I saw him go up with his hands. I couldn't exactly see what happened when he hit the ground, but when he rolled over I was like, 'Yeah, he caught that.' I was like, 'Wow.'"
The play was challenged, but Fitzgerald knew he somehow hauled the ball in: "I felt that (Scandrick) almost caught it, and got it out of his hands and I was able to concentrate and get my arm under the ball. It was more luck than anything."