Larry !Fitzgerald didn't dominate from start to finish on Sunday like he did the game prior against the Cowboys. But the Cardinals' wide receiver once again came through when he was needed most. Fitzgerald's fourth catch of the day was humongous, as he snared a 19-yard touchdown pass from Carson Palmer to give the Cardinals the 18-15 overtime victory over the 49ers. It was the only touchdown in a game that otherwise featured nine field goals. Fitzgerald, Palmer, center A.Q. Shipley and coach Bruce Arians analyzed the play in this week's Cardinals Film Room.
The situation: The Cardinals had a second-and-2 from the 49ers 19 with 38 seconds remaining in overtime, trailing 15-12.
Palmer feels good about the play after scanning the defense: "They lined up in single high (safety), and we'd been wanting to get to this play. We ran it a couple times and had some success with it."
Shipley irons out the protection plan: "We try and go to the biggest threat at the back end of the rushers. You look over here and they've got 1-2-3 to cover 1-2-3. So cancel them out. (Safety Jimmie Ward) is deep, and he's probably going to drop. The only one that can really come based on alignment is (safety Jaquiski Tartt), so I'm sliding to him."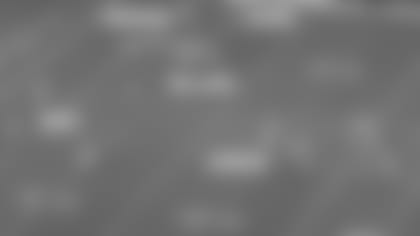 Fitzgerald begins his route: "I saw single high and once I started running vertical, I saw the nickelback (K'Waun Williams). He didn't really drop much. I knew it was zone, so I knew I was a viable option on that play called."
Palmer sees Williams release Fitzgerald: "He had been carrying Larry a whole bunch. We kept throwing this checkdown, so I think his eyes just got stuck back here (on Chris Johnson). We had the safety (Ward) in a good spot, and (cornerback Rashard Robinson) is kind of playing two-to-one on both (Fitzgerald and Jaron Brown). Larry did a good job of bending it but not getting too close to (Ward)."
The 49ers rush only four. Shipley: "(Tartt) dropped, so these two are man over here, we're in the middle, and Jared is running his guy wide."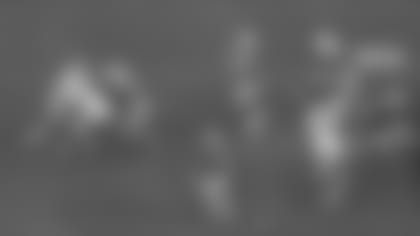 Shipley and the rest of the offensive linemen hold up: "I think they're trying to run a twist over here (on the left), and they've got that all bottled up. (Left tackle John) Wetzel has got his guy and the pocket's clean there."
Palmer had been sacked six times previously, but keeps his eyes downfield: "There are certain times you don't, but you definitely want to try to. There are just sometimes when color flashes and you've got to pull the ball down. Great protection this whole drive. That's all you can ask for right there. That's perfect."
After struggling badly at times earlier in the game, the protection on the final drive was good. Shipley: "What's kind of nice when we get in the no-huddle, they really don't switch defenses. So once they get in the no-huddle, you know it's going to be the same look almost every time. It's good for us. There were a lot of times when it was third-and-8 and they know it's a passing down and they throw some exotic stuff in just like every other team does. We knew in this no-huddle, that once they lined up in it the first time, that's what they were going to line up in."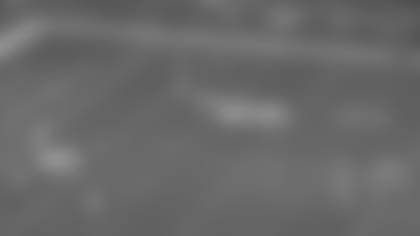 Palmer settles on Fitzgerald as his target, but doesn't give it away:"I was just staring at (Ward), trying to keep him over there. We had just hit Jaron on this over route and (Williams) didn't carry (Fitzgerald) for some reason. And with that, we had him in the hole."
Fitzgerald angles his way toward an open area: "I didn't see all the rotation and stuff. I was just watching my safety in the corner. They're playing a two-to-one coverage on me and I just bended in there and Carson gave me a good ball to go make a play on."
Arians is glad to see the pass heading to Fitzgerald: "In critical moments, he's like, 'Give me the ball,' and I say, 'I'm trying, brother, I'm trying.'"
Shipley watches from near the line of scrimmage: "You can tell when the ball is thrown because these dudes all stop. As soon as '99' (DeForest Buckner) stopped, I got my eyes downfield trying to see. I was watching the whole thing. It was pretty cool seeing Fitz go up and get that."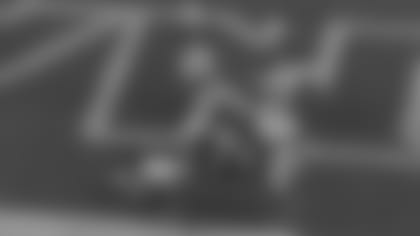 Palmer knew a touchdown was likely when the ball was in the air: "I felt really good about the ball, right when it left my hands. Him against anybody in that situation, I'll take 100 times out of 100."
Fitzgerald crumples over, but he just has the wind knocked out of him: "Consciously, I knew that we had just won the game but I couldn't breathe. So, it was hard to really be kind of animated and celebrate. I was trying to catch my breath. It was great to get a 'W' and like I said, we needed it badly."
Images of the Cardinals' star ending the 49ers game with a touchdown reception