Safety Rashad Johnson's heads-up defense gave the Cardinals a heart-pounding 24-20 win over the Eagles
After John Brown's 75-yard touchdown reception with 1:21 remaining on Sunday, the Eagles got the ball back needing a touchdown for the win. They drove to the Cardinals' 16-yard-line and took three shots to the end zone. The final one was a pass to wide receiver Jordan Matthews, who caught the ball but was shoved out of bounds by safety Rashad Johnson as time expired. Johnson, defensive end Calais Campbell, safety Tyrann Mathieu and cornerback Antonio Cromartie broke down the play for Cardinals Film Room.
The situation: The Eagles faced a 3rd-and-10 from the Cardinals' 16 with one second remaining in the fourth quarter, trailing 24-20.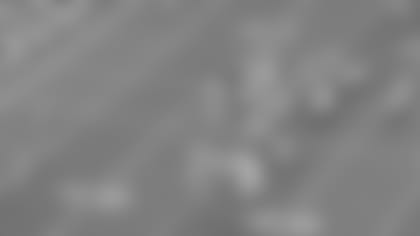 The Cardinals went with man coverage and sent seven after quarterback Nick Foles, so Campbell knew they had to get there in a hurry:"They had so many yards to go, so the biggest thing was to get the ball out of his hands quick so they really couldn't get their routes to the end zone."
Cromartie sees a familiar look: "Most of the time they lined up in this formation we knew exactly what we were going to get, but they made a little change-up. Instead of running the double post, they ran the post with a seven route (sending Matthews to the corner)."
Johnson moves up into press coverage to stunt the timing of the routes: "Normally when we're in zero coverage and they come and give us a bunch look like this, the guy that has the (receiver) on the point has to come and press to clear everything up for these two guys behind. If it was longer than 16 yards I probably would have played off."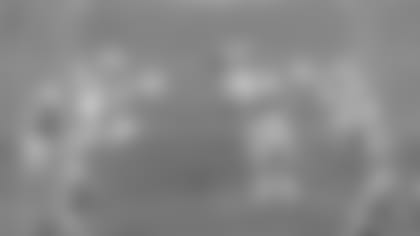 Several Cardinals bust through the line and zero in on Foles. Campbell: "The guy's open, but he had to drift and throw off his back foot. The way he threw the ball gave us time for recovery. I know Rashad made a heck of a play at the end of the game, but a lot of that was because he had to get rid of the ball quick."
The play-call put all four defensive backs in one-on-one matchups, and Johnson liked the aggressiveness: "Last play of the game, you play to win. Let's go get 'em. That's what we do. We're not going to give him enough time to think about what he wants to do. We're going to force him to make a play under pressure and see if he can get it done."
Mathieu wasn't so sure about the decision: "I'm thinking, 'Why are we in man coverage?' Initially we were saying, 'Let's tell coach Bowles to put six (defenders) in the end zone. You can rush the rest, but let's protect the end zone.' But he doesn't coach like that. He's going to make us earn our money. There was no getting out of this call."
Eagles wide receiver Riley Cooper runs into Mathieu in the end zone:"I definitely believe it was a deep pick route because he didn't try to avoid me. He kind of ran straight into me. They needed to get somebody wide open, and we'd pretty much been contesting the balls pretty good that day. Even on the Jerraud (Powers) touchdown (a 54-yard scoring reception by Jeremy Maclin) it went right through his hands. We were defending pretty well and I think they had to create some space on that play."
Cromartie, who was guarding Cooper, senses trouble as Matthews runs free: "I had no idea (Johnson was in the area), to be honest with you. I was like, 'Oh, man, we just collided.'"
Johnson makes a crucial adjustment: "Right at the point when I looked back at the quarterback, I saw his shoulders and I saw the angle of the ball was higher than my guy (tight end Zach Ertz). I turned and broke on it. I saw Jordan in the back of the end zone."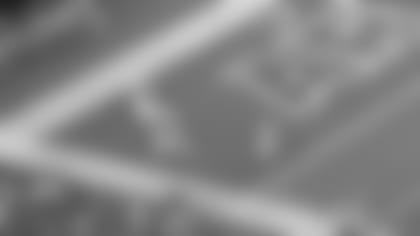 Mathieu thought he might draw an offensive pass interference call, but no flag was thrown:"It's kind of a bang-bang play. Last play of the game, they don't want to take anything from either team. I think the refs just let us play."
Johnson processes his best plan of action: "My initial thought was that I could run, get under it and probably intercept it. But I didn't want to take any chances. I felt how close I was to the sideline, and I knew if he caught it I could get a good shove on him to where he was all the way out and couldn't get two feet down."
Campbell said it was a smart decision by Johnson: "There's no such thing as a force-out anymore. It used to be, but they changed that rule, so it was one of those things where I was hoping, 'Force him out. Sweep his legs. Don't let him get his feet down. Whatever it takes. If you've got to grab him and sling him, just push him out.' That's what makes Rashad Johnson a great player. He understands the rules of the game and what it takes to win."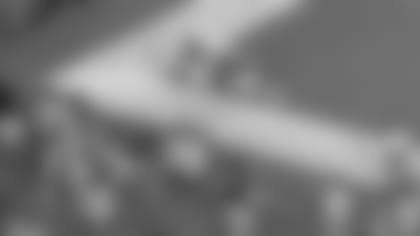 Campbell on how close it came to a touchdown: "Barely or if it was by a mile, it didn't matter. A win is a win. It was a hard-fought battle and a team we respect a lot. It was a game we knew would affect us down the road, so I was ecstatic. I was so hyped that I was running around – well, I didn't have much energy left, so I was walking around – with my hands up."
Cromartie said the defense relished its chance to close out the win: "You live for these moments to go out and make a play."
Johnson immediately knew the Cardinals won: "When I hit him right there, I noticed that one foot hit the white line, so I knew he was out unless he double-tapped it somehow and I didn't see it. So as soon as he hit the ground, I rolled over and gave the incomplete sign.* *It felt great. We fought the whole 60 minutes. It wasn't perfect. We gave up plays through the game and the offense was slow at times, but it felt great to come together when we needed to. They made a big play on offense and we were able to hold strong in the two-minute."
Safety Rashad Johnson gives a well-timed push to Eagles wide receiver Jordan Matthews to seal a win over Philly