The
Cardinals' defense dominated the Giants on Sunday, posting its first shutout in 25 years. The cherry on top was a touchdown on the first play of the fourth quarter, when money linebacker Deone Bucannon forced a fumble and defensive lineman Robert Nkemdiche returned it 21 yards to the end zone. While the offense has been hit hard by injuries, the Cardinals have a chance to finish 8-8 on the season because the defense has found its groove. Bucannon, Nkemdiche, coach Bruce Arians, defensive coordinator James Bettcher and cornerback Patrick Peterson talked about the scoop-and-score in this week's edition of Cardinals Film Room.
The situation: The Giants had a third-and-2 from their 28 with 15:00 remaining in the fourth quarter, trailing 16-0.
Peterson has a gut feeling pre-snap, and he ends up becoming Nostradamus:"It's crazy because right before that play I told (Nkemdiche) you're going to be the one to make the play. Ask him. ... I saw the future."
Bucannon gets ready to blitz, and has a feeling it will be successful: "The whole game I wasn't getting touched. Our D-line was dominant; it just made it easy. Every tackle I had, I don't think a lineman touched me. Our line was just dominant."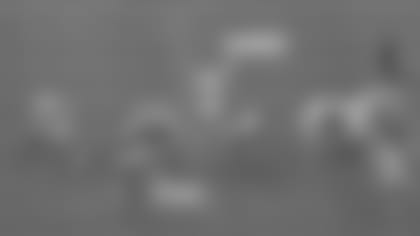 Defensive lineman Corey Peters is double-teamed, which gives Bucannon a free lane: "When the 'Cougar' was called, I knew it was going to be the same thing because they were so worried about our D-lineman. I just came in free. I'm happy (quarterback Eli Manning) held the ball a little longer for me to get there."
Bettcher knows Bucannon is a critical chess piece: "Buc is a violent blitzer. A guy that whenever you guys watch him play, he is running around, flying around and playing fast. Plays like that and opportunities like that, you never know when they are going to come in the game. When they come, as long as you are playing as hard as you can and you're executing, good things are going to happen and that is what happened for him."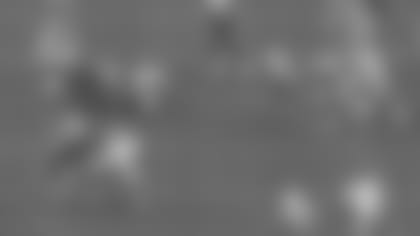 Manning shuffles right but has nowhere to throw, and Bucannon knocks the ball loose: "He held it a little longer. I was trying to punch it and tackle him at the same time. I'm not an edge-rusher so it probably didn't look too clean, but I'm glad I got there."
Nkemdiche's assignment is to keep Manning contained in the pocket, so he has a good view as the play unfolds: "As I saw him closing in, I stayed in my two-gap. I saw Buc come around and I said, 'Uh, oh, here it goes. Running back time.'"
Arians believes there is a fine line between jumping on a fumble and picking it up: "It depends on your hands. You always say scoop and score, but the first thing you want to do is recover it."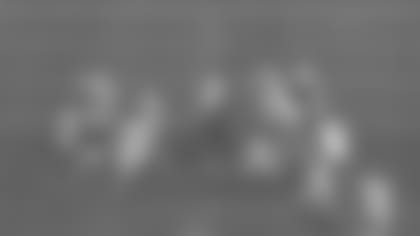 Nkemdiche knifes between Giants center Brett Jones and left tackle Ereck Flowers: "They used to call me 'Bus.' They used to call me the 'Refrigerator.' I'm used to it. That's what I do. I saw a hole. I took it. I was like, 'I'm gone.'"
Bettcher marvels at the moves by his 6-foot-4, 296-pound defensive lineman: "He was high stepping people, spinning and twisting. He wanted in the end zone pretty bad."
Arians notes there was a good luck charm in the stands: "I think his mom was here (from Nigeria). We need to get her here more often. It was great for him to get that touchdown for her here at the game. … It was a long time coming, and he was close all day. That's the type of player I know he can be."
Peterson revels in his prediction: "I'll be doggone. He picked up the fumble and scored. That's why I was running behind him like a bat out of hell. … I told him literally before the play, 'You're going to be the one to make a play,' and he made a play and ran it in for a touchdown."
Nkemdiche, the team's first-round pick in 2016, hopes it can be a turning point: "It felt amazing. It felt like a breakthrough. … It's only the beginning. I've barely scratched the surface for what I know I can be and what everyone else can be. I'm just going to keep feeding off of this."