The !Cardinals were cruising to a victory on Monday night, but a fourth-quarter blocked punt helped the Ravens hang around until the end. They had a chance to tie the game with a touchdown and two-point conversion late in regulation, but safety Tony Jefferson ended that hope with an interception in the end zone for the 26-18 victory. It was the Cardinals' first win of the year by single digits, something they were looking for after a pair of close losses earlier. Jefferson, linebacker Markus Golden and coach Bruce Arians broke down Jefferson's interception in Cardinals Film Room.
The situation: The Ravens had a second-and-goal from the Arizona 9 with 13 seconds left in the fourth quarter, trailing 26-18.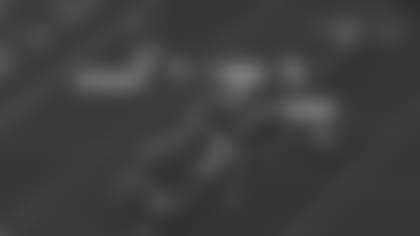 Jefferson switches away from press coverage, knowing the Ravens had to throw to the end zone with no timeouts: "At first I was pressed up and I realized they had a little ways to go, so I snuck back and played off. Before the play I just knew I wanted to stay on top of the route."
Golden wasn't around for that win but appreciated the aggressiveness: "You've got to love that. It just shows teams that we don't care. No matter what the down is, we'll bring it. No matter what the situation is, we'll bring a lot of players."
Golden has the free run at Ravens quarterback Joe Flacco: "I knew they were going to slide-protect somewhere. They were either going to have to slide-protect to the right or the left. I was just thinking, either me or Dwight (Freeney) was going to come off free, so I wanted to take that perfect angle at the snap of the ball. As soon as they slid the other way, I was like, 'OK, I might have a chance to sack him.'"
Jefferson knew Flacco had to throw the ball quickly: "That's the main reason I was able to make the play, because of the pressure." As Golden zeroes in, Flacco unleashes the pass: "He's a smart quarterback, so I knew he was going to get that ball off as fast as he could. He knew it was more rushers than blockers that he had. (The pressure) helps out a whole lot, especially with a good quarterback like that, because if you let him stand back there he would probably make that throw. You want to get him confused and get him moving around."
The ball floats toward Jefferson: "He was uncomfortable, had to throw it off his back foot and just lobbed it in the air. I think they were just trying to do the jump ball. I think he was thinking more of an over route, but that pressure got to Flacco so he didn't really have the chance to set his feet."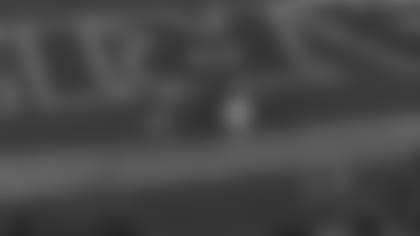 Jefferson cements the win by corralling the interception over his shoulder: "I didn't know until after that there was still time on the clock, so I was so happy I caught it. I kind of bobbled it but I was athletic enough to stop myself before the out of bounds line. I saw the line back there, so I tried to put my weight back and stop and fully get possession before I went out of bounds."
Arians said it made up for a 23-yard completion to Gillmore a couple of plays previous: "It was a good catch. I'd like to see him not give up that first one, but it's a good way to bounce back."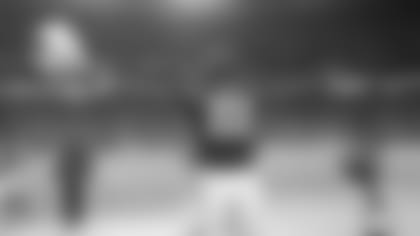 Golden watches Jefferson soak in the adulation from a roaring crowd: "It makes me want to work hard and make plays like that so I can do the same thing he did. It was nice. He deserved it."
Jefferson on the superstar treatment: "I felt like LeBron. That was my LeBron moment. You don't get too many of them when you're not LeBron, so you've got to take advantage."
The top images from the Cardinals' Week 7 victory over Baltimore