The Cardinals defense correctly diagnosed the tricky zone read

Although the Cardinals struggled offensively against Seattle on Sunday, their defense kept the score close for much of the afternoon. The Seahawks were threatening to put the game away after a blocked punt gave them the ball at the Arizona 24 early in the third quarter, but the Cardinals forced a field goal. The key play was a tackle for loss by safety Tyrann Mathieu on a zone-read option. Mathieu, defensive end Josh Mauro and defensive line coach Brentson Buckner dissected the play for Cardinals Film Room.
The situation: The Seahawks faced a 2nd-and-6 from the Cardinals' 20 with 10:22 remaining in the third quarter, leading 9-3.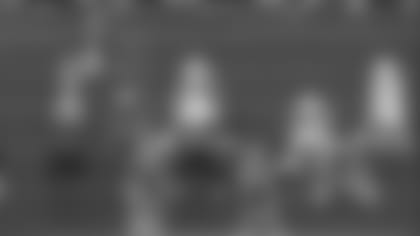 Buckner on the defensive thought process:"What we like to do is make them have to make a quick decision. A lot of teams like to feather and wait (shuffling the defensive end near the line of scrimmage), but now you give them too much control. Let's be honest: That quarterback and that running back are more athletic than a big defensive end, and then you put the safety into a bad situation. What coach (Todd) Bowles likes to teach is, Let's make everything happen fast. Let's speed up their process. Right here on this formation, we know right now he can't run it to (the right). He's going to run it away. Josh's responsibility is to go tackle '24' (Marshawn Lynch) whether he has the ball or not."
Mauro likes this method of defending the play: "Some teams have the defensive end feather and they'll shuffle down and he'll take either/or. He'll take the back if it's given but he'll stay square so if the quarterback keeps it he can take him. That puts him in a really hard place. We made it a little easier on everybody, where the dive players have the dive, the quarterback players have the quarterback and there's no confusion with that."
Mathieu outlines each player's responsibility: "On this particular play I have tight end (Tony Moeaki). That's my man. (Mauro) has the back and once 'Buc' (safety Deone Bucannon) reads flow he has to get back over to take the quarterback (Russell Wilson)."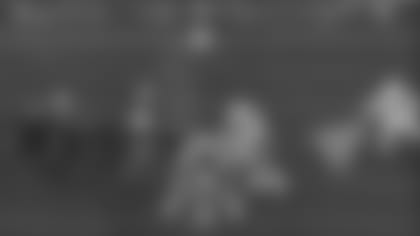 Mauro does a nice job of forcing Wilson to keep the ball: "Right here I have the 'C' gap. I'm just trying to knock the tight end back. Obviously the tight end is in Marshawn's lap so he's got to make a cut even though he doesn't have the ball. I don't know that though. It's just my responsibility so that's what I'm taking care of."
Mathieu waits for Wilson, but also must watch Moeaki: "What I worry about is him releasing. Say I commit to Russell, he releases, and Russell throws it back to him. He did that a couple times this year. So I was concerned about that, but he didn't show that (Sunday), so I was just like, 'I'll take the quarterback.'"
Buckner on Mathieu's dilemma: "It's a really bad situation for him because he has this guy in man (coverage). If he goes out for a pass he has to go with him. But through film study, we know a certain percentage he wasn't coming out. Once he started this (blocking) motion here, it was a pure run."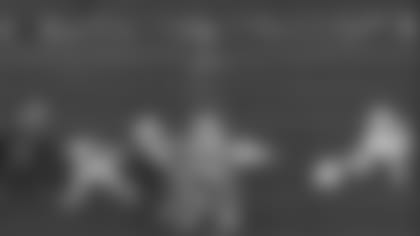 Buckner knows the defense is in a good position as the play unfolds: "Frostee Rucker does a great job of cutting the run off here, so you've really got three guys for two players and two gaps. So we gain an extra player because of what Josh and Frostee did. Russell reads this first and it's, 'Alright, they've got the dive taken.' He pulls it, and now you have Ty on him and Deone's flying to help Ty."
Starting a safety in the box helped give the Cardinals positive numbers. Mauro: "(Patrick) Peterson and (Antonio) Cromartie are out there, two of the best corners in the league. We feel comfortable leaving them on an island one-on-one so we can bring guys like Tyrann down in the running game."
Mathieu waits for Wilson: "In the first half if you remember, they were kind of arc-blocking me, taking me out of it to let (Wilson) run up the field. Then they started blocking down (with the tight end) so I was just able to be free."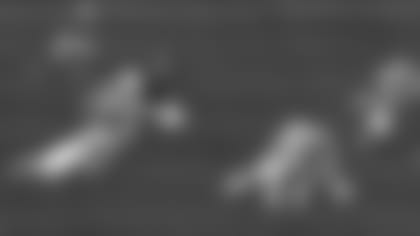 Mauro is still keyed on Lynch: "It didn't matter (where the ball went). That was my responsibility. Our game plan was to just hit these guys early and often throughout the entire game. I think he has the ball, so I'm hitting him. Tyrann knows Russell has the ball, so he's hitting him.
Mathieu finishes the job for a two-yard loss: "Initially, you want to put yourself in position to at least be able to touch him. Once I realized I had a great angle on him, it's just about making a play. I think I batted his stiff-arm down – it was a pretty good stiff-arm – and made the tackle."
Wilson can make guys miss but Mauro felt confident in Mathieu: "You don't get the nickname of the 'Honey Badger' without making a lot of plays. I've only been here for a short amount of time but I have the utmost confidence in him just from watching him in college and in the pros now. Obviously our coaching staff and this team has a lot of confidence in him as a playmaker. That's not out of his realm of ability."
Buckner said it helped having two rookies and second-year man Mathieu covering the option: "All these guys probably played against this offense from high school to college, now the NFL. They're at home against this offense. When you get young guys against this offense, it's 'I saw that 10 times in college.' The older guys are the ones that normally have the problems with it. You've also got three disciplined players who know their role in the defense who go out and execute to a 'T'."