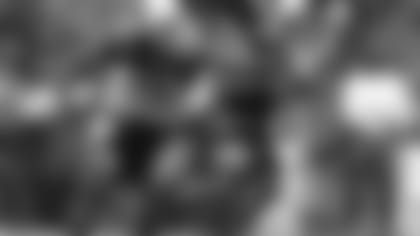 Dominique Rogers-Cromartie (29) battle Larry Fitzgerald in one of their many training camp matchups.

FLAGSTAFF – For entertainment value, it probably tops anything to watch at training camp.
For the Cardinals, it makes them a better team.
And for Larry Fitzgerald and Dominique Rodgers-Cromartie – Pro Bowl Present and (likely) Pro Bowl Future – their daily one-on-one matchups give them a little something to talk about.
"There's too much talking," Rodgers-Cromartie said with a grin. "He's a real competitor. We get out there, yell and say, 'Let's get better today.' "
Sure, egos are involved, but ego is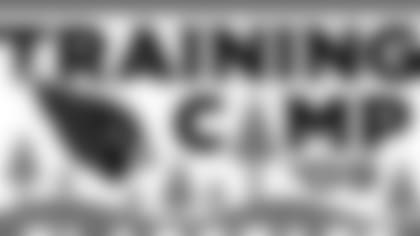 necessary to get to the level of wide receiver  
Fitzgerald has reached, or to get the level of cornerback play DRC strives to achieve. Fitzgerald doesn't want to let a second-year corner – even one as talented as DRC – get the better of him. And DRC arrived in the NFL with no shortage of confidence.
So they battle. Fitzgerald may use his hands and DRC may cut Fitzgerald off. Every pass in their direction becomes a mini-war, because they know it matters not only to them but to all the teammates that wait for the outcome as well as the fans.
"I don't talk on the field (during games), so I kind of do my talking on the practice field," Fitzgerald said. "DRC is an extremely talented man, it forces me to get better. He's so quick, he's so fast, he plays really well down the field where I excel at so it forces me to raise my level of play every day in practice."
With Fitzgerald and Anquan Boldin leading the receiving crew, its presence has long been a beneficial source to Cardinal defensive backs who must defend arguably the best wideouts in the NFL.
Now, though, the defensive backs – thanks to the maturation of DRC and the arrival of fellow cornerback Bryant McFadden – there can be some reciprocation.
"Our defensive backfield is unbelievable right now," wide receiver Jerheme Urban said. "Anytime you can compete in a one-on-one situation, you are either going to get better or you are going to get worse. That was an old Todd Haley saying. You are never going to stay the same. It's not often you are going to get true one-on-one situations in a game, so it is fun to do it in practice."
Said McFadden, "We will get the best look we can get, day in, day out. We just try to hold up our end of the bargain."
Rodgers-Cromartie has apparently done that with Fitzgerald.
Monday, Fitzgerald was racing downfield deep with DRC right on his heels when Fitzgerald quickly pushed DRC back just enough to clear room for a catch, leading DRC to complain to defensive backs coach Teryl Austin and Fitzgerald – wearing a smile – to join in the conversation. During one practice last week, the bumping and hand-fighting turned to more, and the two had a brief tussle that seemed so out of place for both players, given their personalities. That's what competition will do.
"You saw a little tussle," Rodgers-Cromartie said. "He came off and shocked me a little bit. He kind of got to me. And we wrassled to the ground and we got into it a little bit."
Fitzgerald just shook his head about the incident, insisting DRC made a mistake because he "is not that strong."
"I had to slam him down on his head," Fitzgerald said. "I am still chief when I am going against him. I didn't want him to think he was getting the best of me."
It's the talking that remains the ultimate barometer during the DRC-Fitz battles.
"I have days when I can tell I am in his head, and he don't want to talk to me because he knows I am going to say something, and there are days when he is in my head and I don't want to talk to him," Rodgers-Cromartie said. "You can tell who is having a better day by who is doing the talking."
And Fitzgerald will allow that, even with his experience and Pro Bowls, he can't beat DRC every time.
"You're not going to win every day," Fitzgerald said. "I just want to make sure the majority of time I have the upper hand. I beat him up a couple days ago, mentally, physically, emotionally. I want to keep it that way. But he has his days."