Cardinals president Michael Bidwill gets some last instructions from crew chief Deo Harrypersaud prior to flying with the Blue Angels Wednesday morning.
Michael Bidwill was already an experienced pilot, but he had the flight of a lifetime Wednesday.
With the U.S. Navy's Blue Angels scheduled to make a fly-over before Sunday's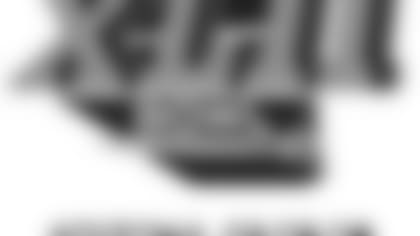 Super Bowl at University of Phoenix Stadium, the Cardinals' team president was invited to join in a test run in an F/A-18 Hornet at Cutter Aviation in north Phoenix.
"Just to be able to fly with these guys is one thing," Bidwill said. "But the fact that they are doing it Super Bowl week and they'll be doing the fly-over at the Super Bowl that I helped bring to Arizona is a meaningful day for me."
Bidwill joined Blue Angels pilot Lt. Frank Weisser – whose callsign is "Walleye" -- for the flight. Despite his flying experience, Bidwill still took part in a 45-minute flight briefing by Seven Crew Chief Deo Harrypersaud. He then changed into a Blue Angels VIP flight suit before climbing into the aircraft.
"This is the ultimate thrill ride," Harrypersaud said.  "If you're an adrenaline junky, this is your fix.  I call it a good dose of vitamin G in the morning to wake you up."
Following another short briefing at the plane, Weisser and Bidwill taxied down the runway in preparation for the takeoff. The plane first hovered over the runway until it reached 300 knots. Then Weisser pulled back and the plane shot up at a 45-degree angle at about 500 feet per second.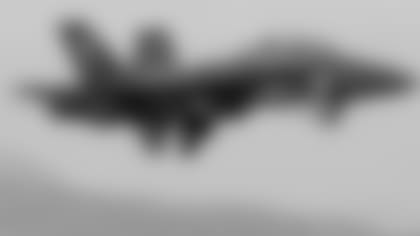 Bidwill's plane hovers above the ground just prior to takeoff during Wednesday's flight.
"The take off was the most dramatic thing I have ever done in my life," Bidwill said. "It was unbelievable how fast we were up."
During an hour trip Bidwill experienced a plethora of maneuvers, including straight climbs and low passes over mountains in Eastern Arizona.
"It was unbelievable," Bidwill said. "The airplane is just a great performance.  The pilots of the Blue Angels are just amazing and so professional. He was just spot on."
"Michael was fantastic," Weisser said. "He is an accomplished pilot himself so it was pretty easy for him to jump in there. I let him fly probably half of the flight and he did an awesome job." (For a full photo gallery, click here).
Bidwill successfully made it through the flight without having to use any of the four sickness bags provided but admitted to getting a little tunnel vision twice during the flight.
"We pulled a total of 6 'Gs,' which was plenty for me," Bidwill said with a laugh. "I started to get grey at points, but I made it."