Cardinals receiver Steve Breaston (left) covers one of his receiving students Saturday during the Cardinals' annual Football Skills and Education camp.
Chike Okeafor had a specific way he was looking at teaching his small group among the 350 high school kids who took part in the Cardinals' Football Skills and Education camp held Saturday at the team's Tempe complex.
"You specialize on fundamentals," said the Cards' linebacker. "They are young cats and fundamentals are the most important thing here."
The day-long event, sponsored by SRP, the U.S. Army and the Core Institute, had a dual purpose. Broken into two parts – offense in the morning, defense in the afternoon – the players not only received coaching on the field but also classroom talks about collegiate letter-of-intent processes, financial aid instruction, and study aids. Among the 17 current Cardinals who took part were Okeafor, cornerback Eric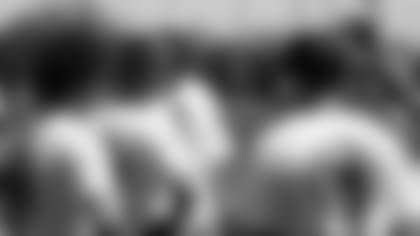 Tight end Troy Bienemann talks to the high school tight ends at Saturday's camp.
Green, running back Marcel Shipp, defensive end Antonio Smith, receiver Steve Breaston and kicker Neil Rackers. Former Cardinals like Eric Swann and Derek Kennard also took part, as did Cardinals coaches Russ Grimm, Ron Aiken, Rick Courtright and John Lott.
"The camp was good because I got to see my competition so I know what I'm up against," said defensive back Tommy Clardy III of Tucson Sunnyside High School. "Eric Green was really cool, too. He taught me some new techniques."
The Cardinals also held a kicking and punting camp Sunday for kids.
Wide receiver Andrew Kelly of Gilbert Highland High School admitted he was tired after the conditioning work Saturday led by former Arizona State and Colts linebacker Vernon Maxwell. But, Kelly admitted, "I learned a lot."
That is the ultimate goal of the day, said Shipp – who slipped in his work in between his responsibility coaching an area-youth flag football team.
"A lot of kids don't have people to guide them," Shipp said. "You may have someone coaching them in football, but the other stuff is missing."
For Okeafor, the "other stuff" can be just as important.
"There is a lot more to football than just the physicality," Okeafor said. "Wisdom and technique and practice over time. The attention to detail, analyzing yourself, your weaknesses and your strengths, you work on those things."