Coach Ken Whisenhunt pointed out when he began his official – suits and ties for everyone! – NFC Championship press conference Friday that it was two years to the day he stood on the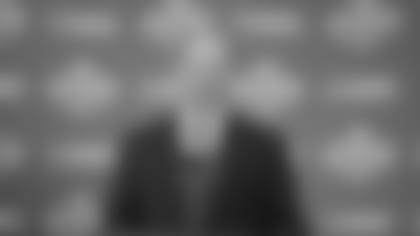 same stage in the team's Tempe auditorium for his introductory press conference when he was hired.
"Looking back, I remember thinking what a great opportunity this was for me," Whisenhunt said.
It's been quite a ride to get to this point, a Super Bowl trip on the line. Whiz was followed by Karlos Dansby, then Kurt Warner, Larry Fitzgerald and Adrian Wilson. Whiz mentioned that not playing well down the stretch may have actually been a blessing in disguise. Dansby said having the home-field advantage actually puts pressure on the defense to make plays, so the fans have something to cheer about – then he added, "Pressure does two things: Busts pipes and makes diamonds. We're trying to make diamonds."
Warner gave props to the franchise for giving him another opportunity, noting "there might be 31 other teams that wouldn't have made the same decision the Cardinals made, with all the circumstances and with Matt (Leinart) and the draft pick and all those things." Fitz joked about his dad giving him spankings when he was a child, knowing full well Fitz Sr. was in the back of the room. A-Dub closed the presser with a basic message – "It is just us against the world. That is the thing we are going out there to prove."
-- With everything going on, I'm sure I will be blogging through the weekend. There is too much stuff not to, so keep checking back. A couple of quick notes: the Maxmium Cardinals TV show begins airing tonight, with Antonio Smith wired from the Carolina game and other goodies. It's on AzTV tonight at 10:30 p.m., FSN at 8 a.m. both Saturday and Sunday, and ABC-15 at 9:30 Sunday and maybe 5 p.m. Saturday, unless it is pre-empted by President-elect Obama's presser.
-- The Cardinals Underground podcast should be up by the end of the day, complete with Ron "Fat Lady For A Night" Wolfley singing at the outset.
Finally, one more Whiz anecdote. Whisenhunt mentioned he is friends with Ravens coach John Harbaugh, and the two have traded texts this week. It's interesting that Whisenhunt is facing Harbaugh's old team Sunday, and Harbaugh is facing Whisenhunt's former team Sunday. We'll see if it can mean anything come Sunday night.
And whether the Cards can get their hands on the NFC Championship trophy.