As she watches cars drive up each day, Darby doesn't know if the person inside will have a mild cough or no illness symptoms at all. She doesn't know if the potential patient just broke a foot or is showing the serious signs of COVID-19.
But as a nurse, this is what she wanted to do. In another part of her life, Darby is a Cardinals cheerleader (per team policy, azcardinals.com won't use her last name). But nursing is her profession, and as part of her hospital's disaster response team for the coronavirus, she has spent the last week in the parking lot screening those that drive up, never knowing for sure exactly to what she has been exposed.
Her hospital has all the personal protective equipment it needs for now. She feels lucky in that regard. But the unknown is reality. Treating someone with no outward symptoms doesn't necessarily mean anything.
"Right now, I don't feel in danger, but I don't really know what's to come," said Darby, who has been a nurse for six years and is heading into her fourth year with Cardinals Cheer. "Will supplies change in one week? Two weeks? Three weeks?
"I try to stay in the moment. As a healthcare worker, I think it's important that we keep our calm. Every day it's changing."
Shasta has been a nurse for almost five years. She works with newborn babies and their mothers, in that day or two they are in the hospital for a birth. She isn't necessarily dealing with COVID patients – "I have a crazy amount of respect for the people that are going in there every single day to do that," she said – but as a nurse, the coronavirus inevitably was going to touch her life.
Shasta's mother was diagnosed with Stage 4 breast cancer three years ago. Shasta bought a house two years ago and both her mom and dad moved in. When COVID-19 arrived, the fear set in, and she saw no option other than moving out.
"I couldn't stand the thought of potentially coming into contact with (the coronavirus), not knowing if I was positive and exposing her to that," Shasta said. "That would be more catastrophic than anything."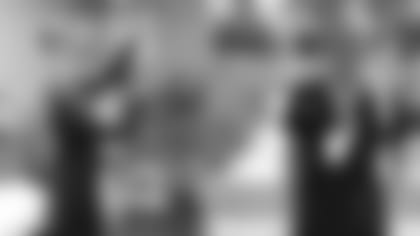 Shasta, going into her third season as a Cardinals cheerleader, first moved in with a friend, who is also a nurse. That friend – who had only had the mildest of symptoms and tested only when she had trouble smelling and tasting – was soon after diagnosed with COVID-19.
Shasta had to stay home from work. She moved to a hotel for a week to quarantine while she waited for her own COVID test results. Those results came back negative, and she moved in with her brother and was able to return to work. (Her friend is doing well.)
"It's been a little crazy," Shasta said.
Darby, who has twice gone to Haiti to help provide free medical care in desperate areas, has a boyfriend who is a firefighter. She said he too has the proper equipment now, but with him as a first responder, they have had conversations about their heightened exposure to the virus.
The fall, with the potential of football and cheerleading, can seem so far away. In these circumstances, it can feel meaningless.
"There are a lot more important things than cheerleading and the NFL," Shasta said. "But this whole (sports) industry gives people hope. If we do what we need to do to get everyone healthy, I keep thinking this will be something people can look forward to. People won't take (that life) for granted."
As for nursing, no matter how dangerous the profession has become, neither has regrets.
"I really have never been so proud to be a nurse," Shasta said. "That doesn't mean it's not scary, to think of what the future holds."
Darby, in a family full of healthcare workers, long thought about being a caregiver at the bedside, doing hands-on patient care. Given the world around her, the idea of being in a different line of work, "you wonder those things."
"But I am the type of the person where I want to be responding to this," Darby said. "I want, with my whole heart and soul, to help people."