The Cardinals have a bunch of players battling for the third receiver spot, including (clockwise, from top left) Steve Breaston, Early Doucet, Jerheme Urban, Sean Morey, Jamaica Rector and Lance Long.
FLAGSTAFF – Larry Fitzgerald is hauling in touchdown passes and making blocks.
Anquan Boldin is working through a hamstring injury.
It's easy to trace the training camp arc of the Cardinals' top two receivers.
Finding what the third one is doing is a little more difficult – because at this point, the Cards don't have a third one.
The departure of Bryant Johnson opened the third receiver spot. Filling it has been
[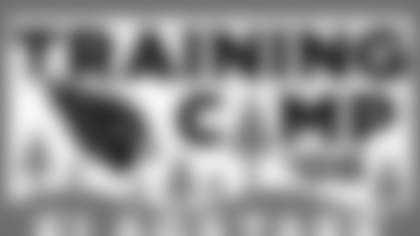 ](http://www.azcardinals.com/news/training_camp.php)
a process. Coach Ken Whisenhunt has called it a "free-for-all." He has also said the spot could end up being "more position by committee," based on the strengths of the different players.
No one guy has earned unlimited praise. Whisenhunt wants to see his receivers in a game – blocking and catching with a threat of being hammered by defensive backs, before he gets to giddy about their prospects.
"It seems like different ones are showing up different days making plays," Whisenhunt said. "The positive thing about that is we are making plays. It's a good problem to have."
If decisions were made in June, while players wore helmets and shorts, Steve Breaston would have already won the job. He caught a lot of balls in both minicamp and organized team activities, he bulked up in the weight room and he looked poised to grab the job in camp.
His talents haven't been as noticeable in camp as they were in the summer. Yet Breaston believes they can carry him to a new role.
"My biggest thing (in camp) was don't go backwards," Breaston said. "A lot of people don't even get a chance to be a third receiver. I'm not going to go out and be the underdog, but I am still going to go out and compete and if I get the job, I get the job."
Johnson left and so the Cardinals picked Early Doucet in the third round of the draft. Given the lack of an obvious replacement, Doucet seemed the most logical to plug into the vacancy.
Ultimately, Doucet's pedigree may help earn him that spot. But he's just one of many right now. He isn't even on the field – he will miss the preseason opener because of a pulled hamstring – and realizes he isn't owed anything.
"I feel like I am behind the 8-ball because (the others) have been in the system for a year, they know what is expected," Doucet said. "For me, I am coming from college trying to learn a whole new system and trying to learn on the go and at a fast pace. I am the one that has to prepare more, be on my 'p's and q's.' "
This is the sixth NFL season for Jerheme Urban, and while a couple of those years were spent mostly watching rather than playing, he's the one with the experience of the third-wideout candidates. He has only 35 career catches, but 22 came last year (for 329 yards).
Urban must improve his technique, and he had too many instances last season when he dropped catchable balls. Then again, he came to the Cardinals late (off waivers at the end of training camp) and now has had a full offseason and training camp with the team.
"It's very much a 'What have you done for me lately' league," Urban said. "It's a good competition right now. I do think I have been through some battles, I feel I have I little more experience. That doesn't mean (the others) can't come in and play. At the same time, I am looking forward to this year."
Jamaica Rector caught the eye of offensive coordinator Todd Haley when both were in Dallas. Haley was instrumental in bringing Rector to Arizona last season, when Rector spent most of the year on the practice squad. For a player with three career games and no career catches, the Haley connection is about all Rector has on the résumé.
"You would think it is an advantage, but it is no advantage – trust me," Rector said. "I'll fit in the third, fourth, even the fifth spot, anywhere I can get.
"It's a competition every day. You are fighting for your job. Even if you get that spot, you are still fighting for it."
Sean Morey has had his receiving moments – the 62-yard catch-and-run in overtime against San Francisco last season, for instance – but he is on the roster for special teams. That isn't going to change, and is the big reason Morey's odds are lower to grab a significant wideout role.
"The reality of the game is people go down and you have to prepare to be a starter every week," Morey said. "Special teams gives me value. I don't feel like they are counting on me to be the answer at third receiver. But I understand the reality of the business."
Undrafted rookie Lance Long has earned early comparisons to successful, smaller slot receivers like Wayne Chrebet and Wes Welker. He has seemingly made every catch in camp. But, like all rookies, he has made his mistakes in route running, and he is undersized (5-foot-11, 185 pounds).
"It makes me feel great to be mentioned in the same sentence as those guys, but I have a long way to go to be like them," Long said. "I want to work. I want to get better every day. … I just can't wait to play in a game."
---
The Cardinals have worked plenty with two tight end sets, so a third receiver won't be necessary all the time.
Eventually, though, someone will benefit from the coverage Fitzgerald and Boldin will attract.
"Whoever is the No. 3 guy," Urban said, "is going to be in a great position."
This article has been reproduced in a new format and may be missing content or contain faulty links. Please use the Contact Us link in our site footer to report an issue.