Huddle Up is a weekly Q&A with a Cardinals player on an off-field topic. In this week's installment, punter Drew Butler talks about having a dad – former kicker Kevin Butler – who also played in the NFL.
Question: When did you realize your dad was an NFL player?
Answer: His last season I was in third grade, so I do definitely have memories of that. Funny enough, his last seasons were here with the Cardinals. I remember going to some games at Sun Devil Stadium. I remember some of the big kicks he made, and obviously some of the experiences at Soldier Field (when Kevin played with the Bears). It was really special, and especially now looking back. How cool is it that it came full circle and that he has the opportunity to come watch me play some games? That day up at Soldier Field (in Week 2) where we won and Dad got honored before the game with the (1985 Bears) Super Bowl team, that was just a really special day.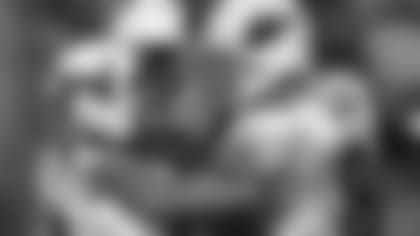 Q: Does he have a tape of the Super Bowl still, where you can watch him in action?
A: Around Super Bowl time a lot of the stuff is about that team, so you can catch the highlights on NFL Network. Those guys were obviously revered in the city of Chicago. One of the best teams ever. So I can find those highlights often on TV.
Q: Did you live in Chicago and here when he was playing? Did you move around with him?
A: His first season here we were still in Chicago, and then his second season we moved out and lived up in Scottsdale. I went to fourth grade up at Anasazi Elementary School off Shea Boulevard. It's fun to be back. My wife and I love it here.
Q: And then you moved to Georgia after that?
A: Yeah, went to Georgia and grew up there. We moved there in late 1999.
Q: Is it cool that both you and him get to experience this from both sides, as a player and supporter?
A: Absolutely. It's been really special. Dad's always got some mental tips for me, and when I need it, some technical tips. Having him in my back pocket, and especially him just being my best friend growing up, it's a huge advantage for me. Being able to talk to him leading up to a game to break down specific situations is definitely an advantage.
Q: So I'm sure you kicked and punted growing up.
A: I did. I kicked and punted both in high school. When I went to college (at Georgia), Blair Walsh, who's the Vikings kicker, he was the kicker there all four years so I got to hold for him.
Q: Did your dad want you to be a kicker in college? Did he care that you switched over to the punting side?
A: No. It was more natural to me and I was getting recruited as a punter by a few different schools. When Georgia gave me the opportunity just to punt I thought that would be the best situation.
Q: Your dad is doing some commentating now?
A: Yeah, he does Georgia Bulldog radio network. He does a pre- and postgame show on game day, and then on Sunday morning he does the Bulldog Brunch, which is a fan call-in show from 10-12. He really enjoys that.
Q: Is that something that interests you down the road?
A: Yeah, absolutely. I went to school and got my degree in telecommunications from Georgia's journalism school. I actually host my own radio show, too, called DawgDial. It's a one-hour show which we tape on Monday nights and syndicate it on about three different stations throughout Georgia. It's been really fun. It's a résumé builder. I wrote some articles last year, too. I've always got to keep that in my back pocket.
Q: OK, and the single-bar facemask. He got to rock that and you're not allowed to any more.
A: He did. He had the cutoff sleeves and the single-bar facemask. You can't do that anymore but Mark (Ahlemeier) and Stein (Steve Christensen) back in the equipment room still have those good memories.
Q: So you've never gotten to wear one?
A: No. The only ones I can wear are the old helmets hanging around the house. I've always just gone with the normal quarterback facemask. That usually does the trick for me.
Q: Do you wish you could have done it? It's a pretty cool look.
A: Yeah, maybe if we had a throwback game or something. If we had throwback jerseys I'd see if I could rock one of them. That would be a good look, for sure.
Q: What's the story about the old Cardinals hat in your locker? That was your dad's?
A: Yeah, it's from 97-98. I found it back in Georgia in an old box. Logo Athletic. Pro Line Authentic. It's got the No. 3 on there. So that's the lucky hat we're keeping in the locker all season.