The Cardinals hope No. 1 pick Dominique Rodgers-Cromartie (left) turns out as good as another small-school cornerback for the Cards -- Aeneas Williams.
Truth be told, Dominique Rodgers-Cromartie knows very little about Aeneas Williams, except that "all the things I read about myself always revert back to him."
Truth be told, Aeneas Williams knows even less about Dominique Rodgers-Cromartie, except that he shares the Cromartie surname with "the gentleman who plays in San Diego."
That's Chargers cornerback Antonio Cromartie, who is Rodgers-Cromartie's cousin. He's one NFL link to the position for Rodgers-Cromartie, the Cardinals' No. 1 draft pick this season. Another is Deion Sanders, a mentor who barked with glee on the NFL Network draft coverage when the Cards picked Rodgers-Cromartie. And there is Hall of Famer Darrell Green, whom Rodgers-Cromartie met through his pastor and who tutored Rodgers-Cromartie for a week prior to his senior season at I-AA Tennessee State.
But as the man known for efficiency's sake as "DRC" arrived in Arizona Thursday to begin his career as a Cardinal, the parallel to Williams was inescapable.
Williams also came from a small school, drafted by the Cards in 1991 out of I-AA Southern University. Like Rodgers-Cromartie, Williams had plenty of people talking about his potential – and worrying about his transition from a lesser level of football to the NFL.
After 14 seasons – the first 10 with the Cardinals, with six Pro Bowl appearances – Williams has a chance at the Hall of Fame. That's the standard with which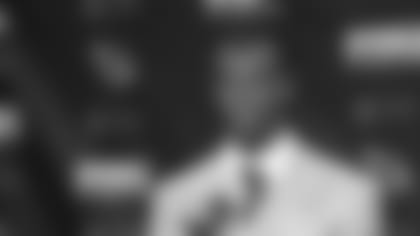 Rodgers-Cromartie much reach to justify the comparisons.
"That's something that really motivates me, seeing where he came from," Rodgers-Cromartie said.
Said Williams, "There should be comparisons and hopefully the goal for the young man coming in would be to exceed what I had done. If that happens, that means we have done our job."
Not everything between the two are similar. Williams was only 5-foot-11, three inches shorter than Rodgers-Cromartie. Williams didn't have the same speed as Rodgers-Cromartie, who claims to have once run a 4.26 40-yard dash and who said Thursday he could "win (in) the Olympics if I wanted to" in the long jump, high jump and maybe the 100.
Rodgers-Cromartie also shined at the Senior Bowl, using techniques taught to him by Green to keep up with NFL wide receiver draft picks Donnie Avery, Andre Caldwell, Harry Douglas and new teammate Early Doucet.
The Senior Bowl got NFL teams' collective attention, and Rodgers-Cromartie's combine workouts put him in the first round.
Williams had a poor Senior Bowl, and he dropped to the third round.
A few of the comments made by draft analysts after Williams' selection mirrored some of the same things said about Rodgers-Cromartie. "Needs development. Does have athletic ability," wrote Pro Football Weekly's Joel Buchsbaum. "A gamble" and "The guy has a lot of potential" wrote ESPN's Mel Kiper. Phil Hepler of Ourlads Scouting Service wrote "little experience" and "Not in love with the pick."
Yet Williams – who missed the first couple weeks of training camp in a contract dispute – still was a starter by the beginning of the season. And he credited it to a background filled with NFL contact.
He knew some NFL players who had gone to the same high school. And in each summer before his junior and senior year of college, Williams worked out with – and against – New Orleans Saints players.
"My adjustment coming to the NFL was just assimilation to what I had been doing for a while," Williams said. "Imagine, for two years, every summer going home and working out with NFL receivers, going against them and being in that atmosphere. Once I got to Arizona, I was acclimated."
Rodgers-Cromartie probably isn't that far along. His contact with his cousin began in the last year, so he hasn't known him long enough to benefit with any on-field work.
He smiled when talking about going up against Cardinals Pro Bowl receivers Anquan Boldin and Larry Fitzgerald, acknowledging "they are going to beat up on me a little bit."
But that doesn't mean Rodgers-Cromartie is lacking in confidence, noting his athletic ability, his determination and also that "I am a people person. I am outgoing, very loveable, fun to be around, a man of great character – I am just a loveable guy."
Ultimately, Rodgers-Cromartie's status will be determined how he plays on the field rather than how he is off it. Williams, for example, said he was always trying to prove he belonged.
"My goal was always to reach my potential," Williams said. "Each time I worked out, each time I trained, it was to accomplish what I felt was a burning desire to get better every day. It was always the fire within."
And maybe that will prove to be the defining link between the Cardinal cornerback that was and the one that now is.
Williams' thought echoes the sentiments of Rodgers-Cromartie, at least on Thursday. The rookie spoke about the hardships he went through, whether it was bouncing around to four high schools for various reasons, growing up in a single-parent home or going to a small school like Tennessee State.
He insisted he will work harder now just to stay in this place he dreamed about for so long.
Before the first minicamp practice Friday "I'm going to sit in the locker room with my helmet on my head and close my eyes and think of all the things I went through and say, 'I'm finally here,' " Rodgers-Cromartie said.
"(Then) I'll go to work."
This article has been reproduced in a new format and may be missing content or contain faulty links. Please use the Contact Us link in our site footer to report an issue.