Only his fifth snap of the game, Isaiah Simmons made the play that escalated his rookie season.
Perhaps the first-round pick would have emerged following the bye anyway. The plan was always to eventually give the linebacker that chance in 2020. Then he showed off his athletic gifts in snaring the interception in overtime against Russell Wilson in Week 7.
"From that moment on, it definitely changed for Isaiah," defensive coordinator Vance Joseph said. "In terms of his body language, his confidence and playing NFL football. It was a huge moment for our team and for Isaiah and definitely changed his mindset."
Here Simmons is after 10 games, coming off his best game as a pro – in Seattle against Wilson, coincidentally, with 10 tackles and a sack – and morphing into the player the Cardinals coveted with the eight selection overall in April's draft.
"(The pick) was a little confidence booster, that I'm still that playmaker, still that guy who can do those things," Simmons said.
Joseph had preached all along this would eventually happen, although Simmons needed time. Yes, Simmons wanted to be a starter from the first day, but, Joseph said, "he just wasn't ready." He's not only playing now, his ascension sped up with a calf injury to starter De'Vondre Campbell, but he's doing a little of everything, seeing time as an inside linebacker, outside linebacker, nickel back and at safety.
"He was drafted to be a Swiss Army knife for us, and he's becoming that," Joseph said. "It just took a little longer."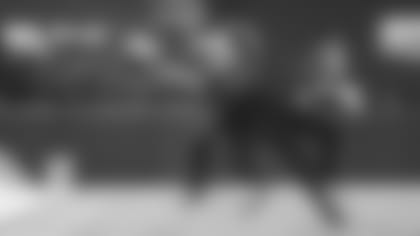 Simmons, smiling Tuesday in his first meeting with the media since training camp, found a way to get past the inevitable frustration.
It helped after going through a similar situation at Clemson, redshirting his first year and then playing limited snaps as a redshirt freshman. But that didn't make it easy.
"I've always been like the star guy," Simmons said. "I'm not going to lie, (early in the season) it was pretty rough for me, going through that. I had a lot of outside support from family and friends. Even my teammates, saying 'Don't worry about it, you have plenty of years to come along, just be patient, your time will come and when it comes, just take full advantage of it.' Listening to those guys, I feel like I did that, and my time came."
He was all over the field in Seattle, playing a season-high 45 snaps and not only notching the sack but making an impressive down-the-field pass breakup.
From the time he got caught in coverage early in the season in San Francisco, beaten for a long touchdown catch-and-run, Simmons understood quickly the lost offseason and missing preseason games had cost him.
But Simmons also came to realize the slow play the coaches had in mind for his career development was the proper plan.
"I'm a really big critic of myself, and trying to figure out why things were happening and in my mind it was like, 'What did I do wrong?' " Simmons said. "It wasn't really what I did wrong. It was just being patient and being able to learn.
"Sometimes," Simmons said, "things have to fall apart to come together."
On the field, Simmons felt like he just needed to stack snaps and allow him to get into a flow in any particular game. Off the field, he fought hard to keep his self-confidence because if that's lost, "it's hard to come back from that." Now, he's looking like he's blossomed.
"Surprised? Not at all," veteran linebacker Jordan Hicks said.
"You watch him on film and he's not on the screen and then the next thing you know he's making the tackle," Hicks added with a chuckle.
Or, in the case of the first Seattle game, making an interception – on that turned around both a game and a rookie season.
"Patience is always a hard thing," Simmons said. "But most of the time it ends up helping in your favor."