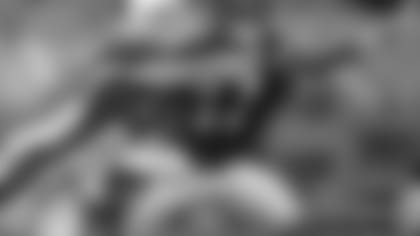 Cardinals receiver Sean Morey tries to break up an interception by Steelers cornerback Anthony Madison during Thursday night's 20-10 Pittsburgh win. Madison was called for pass interference on the play.
PITTSBURGH – No rings were being awarded for the winner of Thursday night's preseason opener at Heinz Field. No jobs were won either, for that matter.
The Cardinals did learn a little bit about parts of their team, though, after a 20-10 loss in a nationally televised ESPN game against the Steelers.
Both starting units played the Super Bowl champions to a scoreless draw. Quarterback Kurt Warner played just like he did last season, moving the offense well in his one-and-a-half series before giving way to Matt Leinart. The defense allowed just 47 yards in two drives. And Leinart, knowing he must play well to fend off Brian St. Pierre for the No. 2 quarterback job, shook off a wobbly start to produce an impressive 85-yard drive.
"Other than the fact we had some opportunities we didn't convert, I thought we did well," coach Ken Whisenhunt said. "Overall, was there more good than bad? Probably."
Warner finished 6-of-10 for 53 yards and was in the middle of a productive drive early in the second quarter when Whisenhunt took him out. A one-yard pass to running back Tim Hightower was challenged as a fumble – the Steelers lost a time out when Hightower's knee was ruled down – but the pause in play was a perfect time to slide to Leinart.
Whisenhunt said he made the mid-series switch because he didn't want to run out of time and not get enough snaps for Leinart. "We got what we wanted in the end out of Kurt," Whisenhunt said.
"The first time out you are always a little bit jittery," Warner said. "You want to get some things under your belt. I thought we moved the football really well. We got first downs."
Warner said he felt no problems physically and mentally, a nod to concerns about lingering hip pain after surgery.
"Obviously you want to finish off drives," Warner said, "but I think it was something to build on."
The drive stalled after three more plays, but the next time Leinart took control, he completed 6-of-9 passes to move from his own 8-yard line to the Steelers' 7. On fourth-and-1, Whisenhunt eschewed a field goal, but Leinart's play-action pass glanced off the hands of tight end Leonard Pope.
The Cards got the field goal back on the last play of the half when a Leinart interception of a bomb to Sean Morey was wiped out on a questionable pass interference call on interceptor Anthony Madison. The 40-yard penalty allowed Neil Rackers to tie the game at 3-3.
"I felt really comfortable with the plays and the reads," Leinart said. "I am going to continue to do what I am doing in practice and camp and control what I can control.
"It was good to get hit a couple of times. It was just good to be out there."
Leinart finished 8-of-14 for 83 yards. St. Pierre, who played the third quarter with the second unit as well, finished 4-of-10 for 42 yards. Cornerback Joe Burnett picked off St. Pierre on the first play of the third quarter, returning the ball 42 yards to the Cardinals' 3 and setting up Isaac Redman's three-yard touchdown run.
Whisenhunt said he was hesitant to judge the Leinart-St. Pierre competition because the circumstances were different for both players, noting that St. Pierre "didn't get a lot of help." Whisenhunt added the two will flip-flop roles – with St. Pierre the first to relieve Warner – in the next preseason game against the Chargers.
As expected, rookie running back Beanie Wells was unable to play with his sprained ankle. Hightower produced 24 yards on six carries, continuing to show an improved ability to force his way upfield without hesitation.
Defensively, it was a simple goal for the starters as well.
"Get in, get out, no injuries," linebacker Karlos Dansby said.
Rookie Michael Ray Garvin improved with each return – Garvin averaged 30 yards on four kickoff returns and 10 yards on three punt returns. Antrel Rolle got the first chance to return punts, fair catching one and fumbling another (although the Cards kept it) after four yards.
The Cards' lone touchdown came from a 23-yard touchdown pass from fourth-string quarterback Tyler Palko to receiver Onrea Jones. The Cardinals ended up outgaining Pittsburgh, 329 yards to 259, with two interceptions (the other thrown by Palko) setting up 10 points for the Steelers.
"There is going to be some great evaluation when we watch the tape," Whisenhunt said.