Adam Cook was determined to get to the Super Bowl and watch the quarterback he once coached at Whitehouse High School in Texas, Patrick Mahomes.
He just wasn't sure how that was going to happen.
He wasn't going to bother Mahomes – "That's not an expectation I put on any of my kids," Cook said in a phone call this week – but the prices for tickets were daunting. As reporters started filtering through his life, inevitable in the quest to tell Mahomes' story, he would joke with them that he needed the prices to go down.
Suddenly, while attending a parent meeting for the upcoming Whitehouse baseball season, there appeared a text from Kliff Kingsbury – the man who had recruited Mahomes to come play at Texas Tech in college, and now the head coach of the Cardinals.
"He just said, 'Hey coach, I have a ticket. I can't think of anyone more deserving,' " said Cook, who is now the athletic director at Whitehouse.
For Kingsbury, who had known Cook for years while on the recruiting trail for Texas Tech, the coach had the means to get the extra ticket and had always been impressed with how Cook treated his players and coaches.
"To have a guy you coached in high school starting at quarterback in the Super Bowl is incredible," Kingsbury said. "I had heard through the grapevine that coach Cook was having trouble finding a ticket. I was happy to help him and even happier that he'll be in the stands on Sunday to see Patrick play in person."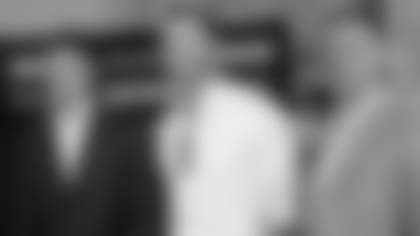 There was a serendipitous turn in the Kingsbury/Cook story to have it come together. The link ended up being Sam Farmer, the longtime NFL writer for the Los Angeles Times, who was tasked to work on a Mahomes Super Bowl story. That started with a trip to Texas to speak with Cook about Mahomes' high school years. The discussion about Cook's quest to go see the Super Bowl came up.
The next day, Farmer called Kingsbury for the next part of his story, to chat about Mahomes' college years. During the conversation, Farmer mentioned Cook was trying to get to the game. At some point after, Kingsbury decided to text Cook with his offer.
Cook wasn't sure how to thank Kingsbury beyond a text. He eventually decided to write not to Kingsbury but Kingsbury's father, Tim, a long-time Texas high school football coach himself.
"The letter just felt like the right way to do it," Cook said.
In the letter, Cook notes "A coach's kid gets it; I know you understand."
Cook said he has never really been a fan of any team, always becoming more of a fan of certain players. But he's paid attention to the Cardinals long before Kingsbury got to Arizona, noting that he loved the team's "All or Nothing" TV season on Amazon.
"There were so many quotes I got from that," the former coach said.
Cook still texts with Mahomes often, and while he hasn't had a chance to speak with the quarterback about his Kingsbury-assisted trip to Miami, Mahomes' brother Jackson does know Cook is going and knows the message has been conveyed.
Kingsbury is also headed to the Super Bowl this week, but it's hard to believe he will look forward to this more than Cook, whose excitement was palpable for his trip-to-come.
"I greatly appreciate Kliff and the Cardinals," Cook said. "I appreciate the message it sends."