It was hot. And it was historic.
The high school football season is underway across the state of Arizona, but this time, girls flag football was in the spotlight.
Mountain View and Mountain Pointe high schools opened up the inaugural season of Arizona Interscholastic Association's sanctioned girls flag football with the Nike Kickoff Classic on Tuesday night. Understanding how big of a deal it was, Cardinals quarterback Kyler Murray wanted to witness it himself.
"Football is for everybody," Murray said. "Football is known to be a man's sport, but we got a lot of courageous girls out here playing the game today. And it looks like they're having a lot of fun."
"I loved my high school experience and the way the people, that community was able to shut down Friday nights," Murray said. "Now these girls get to do that for their city and it's big time."
Girls flag football has grown rapidly over the years. High schools throughout the state previously played it, but not on the varsity level. A few years ago, AIA executive director David Hines brought up the idea of classifying it as an emerging sport.
The enthusiasm from the schools allowed them to take it a step further.
"All of a sudden, 57 schools were on board, so it became a state championship sport in Year One," Hines said. "Not only that, we have two divisions of it. So we're going to award two state championships later in the year."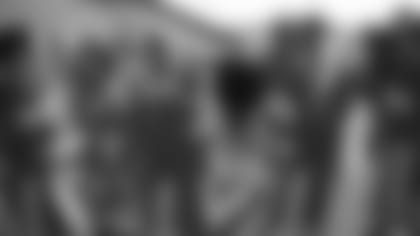 Arizona is now one of eight states to offer high school girls flag football as a sanctioned sport, and by next year, Hines anticipates that they will expand to nearly 120 teams.
"We have given them an opportunity that hasn't been here before," Hines said.
In conjunction with the Cardinals, Nike provided a $100K check for schools to get jerseys and turn what was once a dream, into a reality.
"They have found a niche and they have found something that they love and they dreamed of playing for so long," said Nicole Bidwill, the sister of owner Michael Bidwill. "A lot of these kids grew up going to our football camps out there in the community. Now they're finally being recognized officially by the AIA, and it's incredibly cool."
Bidwill called the girls "trailblazers" who have the opportunity to impact the community.
"We've been planting these seeds in the community for a long time," Bidwill said. "To see it finally grow into an official high school sport in Arizona, it's just really gratifying."
Cardinals Ring of Honor member Roy Green was standing on the sidelines with a huge smile on his face as his granddaughter, Moriah, was playing for Mountain Pointe. Like her grandfather, she was playing on both sides of the ball.
"Last year when she found out about (girls flag) football, she yelled 'Please I want to go play,' and I said 'Go right ahead,'" Green said. "I've figured out, girls are way tougher than guys. They are way committed and this is great for the girls. The opportunity for them is awesome."
Mountain View came away with the 12-7 victory. Before the game, Mountain View's head coach Jesus Arzaga said the goal is to raise the trophy.
"Everybody is like, 'Football is a guy's sport,'" Arzaga said. "Well, come watch these girls compete because they'll get after it,"