Linebacker Travis LaBoy chases Chiefs quarterback Tyler Thigpen during Saturday night's preseason game in Kansas City.
FLAGSTAFF – If the preseason – and the stats – counted, Travis LaBoy would have a chance at his own belt right now.
LaBoy had the faux-championship belt, speckled with jewels to mirror one worn by boxers or wrestlers, made so it could be given to the Cardinals linebacker who notches the most sacks this season.
Then LaBoy went out Saturday night and notched two sacks – and nearly another – while harassing the Kansas City Chiefs.
The performance "further solidifies our belief he will be a good player for us,"
[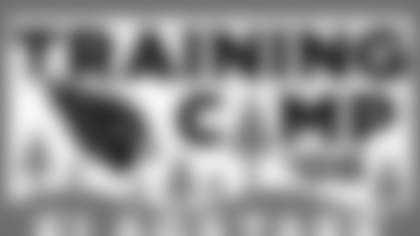 ](http://www.azcardinals.com/news/training_camp.php)
coach Ken Whisenhunt said.
That was the point of signing LaBoy to a five-year, $22 million free-agent contract in March.
LaBoy came up with 19½ sacks as a part-time starter during his four seasons in Tennessee playing defensive end. But once he was looking for a new team, the Cardinals saw him in the "predator" linebacker role currently manned by Bertrand Berry.
That worked for LaBoy, who saw the potential marriage himself.
"I sought out this situation," LaBoy said. "I wanted to be here. The other teams I tripped (as a free agent), they were all similar defensive-style wise. This is what I was looking for."
There has been an adjustment for LaBoy, who spends most of his practice time with the linebackers. The predator position is still defensive end-esque with mostly pass rush responsibilities. Linebackers coach Bill Davis has maintained that any end attempting to become a linebacker – and he has transformed many NFL players in such a move, including Calvin Pace and Chike Okeafor last year – takes anywhere from six months to a year.
Davis said the main reason LaBoy works at predator is because of his pass rushing skills, which are the top requirement for what the Cards look for at the spot. There was also a need after Pace left in his own free-agent move.
"When we lost Calvin, you still have Bert and Chike and Joe (Tafoya) and it's like everything, you try and get as much depth as you can," Davis said. "We have a beautiful problem that we have a solid, deep group of outside pass rushers."
Beyond that, the Cardinals like LaBoy's intensity, which actually got him in a bit of trouble last week when, frustrated during practice, LaBoy clipped quarterback Brian St. Pierre with a hit. That's forbidden in practice, and LaBoy heard from Whisenhunt and a couple of teammates.
Whisenhunt said he hoped the burst of emotion would spill out against the Chiefs, and LaBoy did so, leading the Cards with seven tackles and four tackles for loss in addition to his sacks.
"He is relentless," Davis said. "He has a high motor, he is an intelligent guy, and you can't get him out of the weight room."
LaBoy said the move to the Cards "allowed me to do what I do best." He also endured himself to teammates when, around minicamp, LaBoy unveiled his idea to have the belt made – fellow linebacker Karlos Dansby claims LaBoy paid five figures for the belt – as an incentive.
LaBoy may end up getting the belt himself, if he can produce like he did in Kansas City.
"I am not about to give away all my secrets," LaBoy said, "but someone who can put pressure on the quarterback is a valuable person to any team."
This article has been reproduced in a new format and may be missing content or contain faulty links. Please use the Contact Us link in our site footer to report an issue.