EDEN PRARIE, Minn -- The house itself isn't really a mansion, although it's big and fitting the upper-class neighborhood in this Twin Cities suburb.
Walk out the back, however, and there is the vision of what Larry Fitzgerald loves about home.
The fenceless backyard leaves plenty of room to enjoy the Minnesota summer days. It stretches to a private dock on a giant lake, where the Cardinals Pro Bowl wide receiver can take out a small speedboat or one of a handful of jet skis and leave NFL life behind for just a bit.
"This," Fitzgerald said during one such afternoon this summer, "is the calm before the storm for me."
Fitzgerald spends more time in Arizona at this point in his life. He is a Cardinal, and he loves the idea, as shown by signing two contract extensions thus far, of remaining a Cardinal for the duration of his NFL career. But it is Minnesota – where the Cardinals visit this weekend for a game against the Vikings – that molded Fitzgerald, that provides seclusion, that gives him a chance to be not Fitzgerald the star but Fitzgerald the long-time friend and family member.
So he comes back often, spending the most time there in the dead of the NFL offseason, in late June and early July before training camp begins. He hosts a couple of dozen NFL players for workouts at the University of Minnesota in the mornings during the week, and opens his home to whoever wants to come over in the afternoon.
He races Cardinals teammate Andre Roberts on the jet ski. He climbs in the speedboat and tugs Seahawks running back Leon Washington, another friend of his, and Washington's wife at high speeds until they go flying off into the warm water.
There is public access to the lake on the opposite side. Those across the way can see the houses that back up to the water, including Fitzgerald's, but they have no idea one of the country's biggest athletic stars is just hanging out.
Fitzgerald wouldn't have gotten to where he is today without what he learned in the Land of 10,000 Lakes. Now, he lives on one. It's no wonder he still has a love affair with the area.
"It gets me back to my roots," Fitzgerald said. "I'm around the people I know truly care about me and love me for who I am, who have known me long before I was catching passes in the NFL.
"It gets me that home feeling."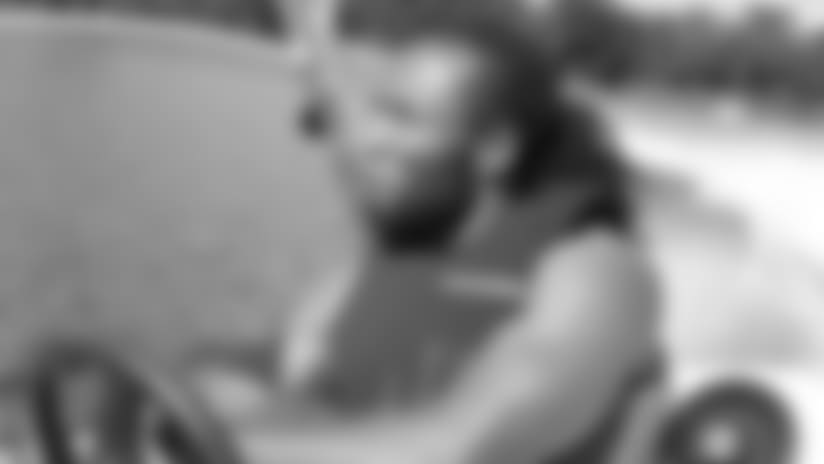 NOT A PRODIGY, BUT A HOLY ANGEL
Larry Fitzgerald Sr. had a feeling his son had significant athletic potential early – around the time Larry Jr. was 10. Larry Sr. had been a star two-way high school player himself in Chicago, good enough to be named to the Chicago Tribune's all-century prep team. He played in college, and before he had kids, began a career in the sports media.
Fitzgerald Sr. had seen the good and bad of athletics. He lived some of it. He would tell his sons – Marcus is the younger brother – about what it took to succeed in sports. He also would tell them of the mistakes he had made that derailed some of his own potential.
"First you teach them to dream," Larry Sr. said. "Then you make them aware they have to be accountable along the way."
Larry Jr. wasn't the star when he was young. That took time. But his parents were a well-known part of the community Larry Jr. – "He's always been little Larry to them," his dad said – grew up to cherish. His father, who co-hosted Dennis Green's radio show for eight years when Green was coaching the Vikings, worked in both radio and newspapers and would bring his kids to games and practices.
Fitzgerald's mother, Carol, also took her boys places. Those places, however, were much different to visit. Carol Fitzgerald was deeply involved with a variety of causes, helping families who were dealing with HIV, AIDS, and breast cancer.
"The fun part was with me," Fitzgerald Sr. said. "The tough part was being with her, because they had to deal with real-life issues."
Even now, the son remains committed to many of those issues. "When I was 6 or 7 years old, I didn't want to go to those things," Fitzgerald said. "But looking back, I was blessed to have a mother who was so involved and taught me at a young age to not only give of your resources but your time."
The constant local field trips created the foundation for Fitzgerald's profile in the Twin Cities, but it was his burgeoning football prowess that built the reputation.
Fitzgerald first got a scholarship to Minnehaha Academy, but didn't stay long. Minnehaha's football program wasn't good, and his father was worried his son's spirit and passion for the game could be crushed under the weight of too many lopsided scores. The Academy of Holy Angels was the choice, although Carol was against it because Larry Jr. would be walking away from a scholarship, and Holy Angels wasn't cheap.
Larry Sr. felt it important, however. Too many things made sense, from the program's strong base to the experience of then-coach Mike Pendino, who had spent time at the University of Minnesota, among other places. Pendino didn't know Fitzgerald. But as he watched the sophomore-to-be throw the football around while talking to his parents, Pendino had no doubt of what he was watching.
"You can ask the coaches," said Pendino, who now coaches at East Ridge High School in Minnesota. "I told them, 'Guys, he's going to be the best athlete you've ever coached.' It just hit me like that. They told me, 'He hasn't even put on pads yet.' "
Pendino was proven right. Fitzgerald played a lot of positions for the Stars, starring at linebacker and playing some defensive back. He didn't even play receiver until late in his junior year. (Pendino even recalled a time when Fitzgerald didn't come to practice, upset that they wanted to try him at running back.)
Fitzgerald scoffs at the idea people saw athletic greatness at him, at least that early. The notion of eventually getting to the NFL was a dream but nothing but that. He certainly didn't see himself – and still doesn't – as a prodigy.
"I grew up around a prodigy," Fitzgerald said, invoking the name of fellow Minnesota native Joe Mauer, who was a year ahead of Fitzgerald in high school and who was named both the national prep football and baseball player of the year when he was a senior. "I knew him personally. If anyone was a prodigy, he was. I was nowhere on that level."
Mauer was drafted in baseball to the hometown Twins, the team with whom he plays for today. There are many Minnesota fans that had wished Fitzgerald had ended up a Viking and not as a Cardinal. But Fitzgerald, thanks to his father, had already had a stint with the Vikings.
It was another hometown connection that put him on the path to the NFL.
LEARNING WITH THE VIKINGS
Cris Carter remembers meeting Little Larry – who wasn't so little by then -- and thinking he could be a very good college receiver.
Anything beyond that was too hard to predict, figured the Vikings Pro Bowl receiver. Too many variables went into the equation. Regardless, Carter grew close to Fitzgerald after Fitzgerald became a ballboy for the Vikings.
Fitzgerald was actually first employed by the Vikings as security help in training camp, his father said. But one night Fitzgerald came in after curfew. Larry Sr., long a disciplinarian, forced his son to give up the job, telling him he was embarrassing the family.
But Fitzgerald's days as a ballboy, spanning his high school years, proved much more productive. He started in training camp and eventually would work the games, and sometimes, if there was no school on a Friday, Fitzgerald would head over to practice. Carter, Randy Moss and Jake Reed would sometimes let Fitzgerald Jr. run drills with them.
"It was every child's dream and I was living it," Fitzgerald said.
Fitzgerald would earn big tips washing the cars of players. He'd work with the JUGS machine after practice, catching ball after ball. He'd talk to Green and offensive coordinator Brian Billick. And he grew close to Carter, who thinks of Fitzgerald like a nephew and remains close to him to this day.
"Even if he grew up to be a pianist or something else, I would have still played a role because we spent so much time off the field together," said Carter, now an analyst for ESPN. "He wasn't just a ballboy to me. As he got older, we became more friends than mentor and protégé."
The time left an indelible impression on Fitzgerald and even the Vikings fans. Each time Fitzgerald's contract has come up for renewal – twice now since he arrived in Arizona – the clamoring has come from Minnesota for the Vikings to find a way to acquire the native son. Fitzgerald has always shrugged it off, but he won't hide his history.
"I grew up a Vikings fan and I would be lying to you if I didn't say I was still a Vikings fan," he said. "Growing up in Minnesota, it's second nature."
Out by the lake, Jaguars wide receiver Cecil Shorts says he's never been swimming before in his life, but Fitzgerald encourages him to try out the water and a jet ski. Everyone is wearing life jackets anyway, and Shorts – there as part of Fitz's workout crew – gives it a shot.
Andre Roberts chuckles when he's asked if he's ever had a chance to throw Fitzgerald from the inner tube out on the water. Fitzgerald always drives the boat, he's not going to climb on the tube. There's no way Fitz would allow anyone the opportunity to send him flying. That's just a given.
But "on the lake, he'll have as much fun and play like a kid," Roberts said. "This is one of the only times he can do that."
The lakefront scene does more than just provide a backdrop of Fitzgerald Jr.'s fun. A short jet ski ride away – a few houses down from his own – Fitzgerald shows a visitor the backyard of an impressive looking house. That's the residence of Bill Austin, the founder of Starkey Hearing, one of the world's largest hearing aid companies. A few years ago, Austin invited Fitzgerald to accompany him on his missions to third-world countries and help impaired needy children with the gift of hearing. That has become an annual trip for Fitzgerald.
With his mother's legacy as a building block, Fitzgerald has been charitable all over the world. His trip to Africa this summer to help with the drought in Africa was just one instance. But there are countless examples closer to his Minnesota backyard.
Every year he holds football camps at Holy Angels. To coincide with the Cards' trip to Minnesota this weekend, Fitzgerald teamed with Riddell to provide 1,000 new helmets for kids playing in the same youth league Fitzgerald played in. This summer, he also purchased new backboards, hoops and nets along with a new surface, to the basketball court at King Park, where Fitzgerald spent countless hours as a kid.
"He wanted to do it for the neighborhood," said Dawn Sommers, the communications and marketing manager for the Minneapolis Park and Recreation Board. "People are really touched when the local heroes come back and show they care for the community."
Of the junior Fitzgerald's Minnesota profile, Pendino said "people talk about him constantly. When you have his personality, when you are an even better person than player, you're going to attract a lot of attention."
Rams safety Craig Dahl, who grew up in nearby Mankato and attended college at the University of Minnesota, said he looked up to Fitzgerald as he made it through the football ranks even though he is only a couple years younger than the Cardinals' star.
"Just about every free moment he had (in Minnesota) this summer he was involved in something," Dahl said. "He realizes what the city has given him growing up here, and he conveys that back."
Eventually, Fitzgerald had to forgo the permanence and comfort of home. His grades suffered late in his Holy Angels career, and while he was on track to graduate, he wasn't on track to qualify for a four-year college. Fitzgerald Sr., who had gone to junior college and didn't want his son with the same fate, shipped his son to Valley Forge Military Academy in Pennsylvania midway through Fitzgerald's senior year.
Fitzgerald spent 18 months there before getting accepted to the University of Pittsburgh. He spent two years at Pitt before coming out in the 2004 draft, where Green – by then coaching the Arizona Cardinals – made sure he was the Cards' choice No. 3 overall.
His full-time life in Minnesota was long over. Life in Minnesota wasn't.
"I was drafted a Cardinal, I want to retire a Cardinal," Fitzgerald said. "But I love coming back here.
"I'll go to Rainbow Foods (a grocery store) and people will see me and you can see them (thinking), 'He looks familiar, but not so familiar to say anything to him so I'll leave him alone.' I can go about my business. I like that I can blend in. I'm just another person walking the streets."
Various images of Pro Bowl receiver Larry Fitzgerald, from his younger days to his Cardinals days