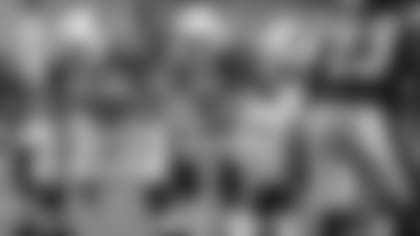 Matt Leinart takes a snap from Ben Claxton during Thursday night's game in Pittsburgh.

PITTSBURGH – Anquan Boldin flashed across the middle, and Matt Leinart's pass was just behind him, deflecting off one hand of the Pro Bowl receiver. It wasn't the way Leinart wanted to begin his 2009 preseason.
"The first play was wide open to Anquan," Leinart said "That was one of the throws I'd like to have back."
Leinart got better quickly, ultimately completing 8-of-14 throws for 83 yards and seemingly striking first in his competition with Brian St. Pierre as the Cards' No. 2 quarterback – not that coach Ken Whisenhunt was willing to say as much.
"It's just really hard to get an even competition when you go from the second to the third quarter like that," Whisenhunt said. "I'd be hesitant to really compare those guys until we flip it and see how they operate next week."
While St. Pierre played with many of the same players as Leinart during his third-quarter stint, the results were much different. St. Pierre completed just 4-of-10 throws and was sacked three times. He also threw an interception that was nearly returned for a touchdown, a play in which St. Pierre said the defender squatted on the route and simply made a good play.
"Brian just didn't get a lot of help," Whisenhunt said. "But he didn't get discouraged and he kept plugging away."
Said St. Pierre, "I have to look at the film. I have to play better. I will look at the film and see what we did. I am sure there are things here and there I need to clean up."
The night instead turned in a relief to Leinart, who has fallen under national scrutiny with the idea he could lose the backup role. Whisenhunt stuck Leinart in the game for Kurt Warner mid-drive, and smiled when acknowledging "I didn't give him a lot of notice."
"It's always hard to be thrown in there, but you have to make the most of your opportunities," Leinart said, adding, "I put so much pressure on myself last year and there was a ton of pressure on me to perform with everything that happened. I have just learned so much over the past year, controlling what I can control. My chance is right around the corner."
It was a quick turnaround for the starting defensive unit, which only allowed 47 yards on two drives. And that was in a basic mode, without many of the bells and whistles new defensive coordinator Bill Davis should bring to the unit over the next few weeks.
"We are still in the beginning stages of installing the defense," linebacker Karlos Dansby said. "We just went out and played ball. Play fast and physical. That was the goal."
Whisenhunt said he was happy with the pass rush, a topic that will remain important throughout the preseason.
"I was disappointed we didn't get a sack, but that kid Roethlisberger is a hard kid to sack," Whisenhunt said with a grin. "One of the questions we have is, 'Are we going to be able to generate any pass rush with our first unit?' I was pleased to see we got some pressure, even though we didn't get him down."
Whisenhunt did praise new starting defensive end Calais Campbell's play.
One candidate for play of the night was the open field tackle by tackle Herman Johnson of Pittsburgh cornerback Anthony Madison. Madison made an interception and a brief bid to repeat the history of the Super Bowl when he looked to run back the turnover for a touchdown as the first-half clock expired – a la James Harrison.
It turned out to be a moot point – Madison was flagged for pass interference before the pick – but it didn't lessen Johnson's effort.
"I basically just wanted to at least run him out of bounds, or trip him up and slow him down," Johnson said. "Mainly, I saw him running with the ball and thought, hell, I have to try and make the play.
"To tell you the truth, I didn't see the flag. Instinct is, you see someone running with the ball that's not your color, you have to make an effort to bring him down. That's what was going on in my head."
The Cardinals came out of the game relatively healthy. The only injury reported was safety Dennis Keyes, who was carted off after suffering a leg contusion and was on crutches after the game.