Marquise Brown found a rattlesnake in his garage recently and acknowledged that he wasn't quite ready for the different critters in his new state of employment.
"I have to get used to that," the Cardinals wide receiver said.
Otherwise, the transition for Brown – acquired in a draft-day trade from the Ravens in April – has gone smoothly.
The verbiage and process of coach Kliff Kingsbury's offense carries similarities with it from Brown's offense at Oklahoma. And then there is the time spent in Texas this offseason with OU teammate and new quarterback Kyler Murray, which allowed Brown to know necessary signals as the players arrived for minicamp this week.
"The relationship with Kyler goes a long way," Kingsbury said.
That isn't changing. Brown said he had Murray will continue to talk daily and while the Cardinals' official offseason work came to a close Wednesday after the two-day abbreviated minicamp, Brown said his prep for training camp would start Thursday.
 "Wherever Kyler is at, that's where I'm going to be," said the man they call "Hollywood."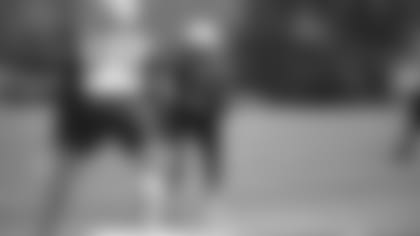 That is likely in Dallas; Murray hasn't spoken to the media since Brown's arrival. But exactly what Brown's impact will be, both during DeAndre Hopkins' six-game suspension to open the season and after Hopkins returns, is to be determined.
Kingsbury isn't making any declarations, about Brown or the offense. The coach said the Cardinals will be ready to drop Hopkins back in the lineup for Week 7, adjusting to however the offense had flowed up until that point.
Does that mean Brown will be a de facto Hop until then? Not only is Kingsbury not saying, Brown wasn't giving hints either.
"I'm new to the team so I don't really know (the difference with or without Hopkins), but I know when he's back on the field, it's going to be great," Brown said.
"It's exciting of what it could be," Brown added. "But you actually have to go out there and do it."
Kingsbury said he has been impressed with Brown's work ethic – "His name is Hollywood so you'd think he'd be chillin', but he works really hard" – and much to a coach's delight, Brown brought up the idea that he could draw coverages to allow others to get open.
It's clear Brown is trying to think big picture, like when he drifted over on a break during Wednesday's practice and took part in a throwing game with the quarterbacks.
"I like going over there, listening to the quarterbacks, training with them," Brown said. "I like to know what they are thinking."
The starting quarterback is surely thinking he will benefit from a new yet familiar weapon, and Brown reiterated he is ready to finally play in the NFL with Murray after years of dreaming it.
"My job is, whatever position they put me in, execute at that position," Brown said.