When Marquise Brown was speaking to the Arizona media for the first time after his trade to the Cardinals, the subject of his potential targets came up.
The wide receiver embraced the question. He had a point to make.
"In college I had guys around me, (Cowboys WR) CeeDee Lamb," Brown said. "I've played with (Ravens tight end) Mark Andrews. It's not about the targets, it's about what type of targets."
That notion only grew in importance over the last few days, with the reasoning why Brown initially asked to be traded away from the Baltimore Ravens grew in social media conversation, and Brown agreeing with some of the explanations.
Brown is coming off his first 1,000-yard season (1,008 yards on 91 catches), and that was in a Ravens' offense that went run first, relied heavily on Andrews and with quarterback Lamar Jackson missing time with injury.
But Brown was unhappy in his role, no doubt in part because it was going to be more difficult getting the second contract he wanted without bigger and better numbers.
It was pointed out on Twitter that Brown actually earned more targets per game than Andrews last season. But as Brown noted, it was the type of targets that resonates with him.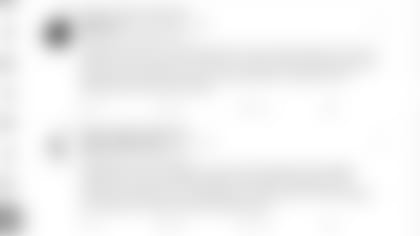 In a tweet that Brown retweeted, former Ravens backup quarterback Robert Griffin III noted that "10 forced targets isn't better than 5 game-planned quality targets."
In another tweet Brown retweeted, a fan mentioned Brown felt like he had been put in good positions when he was in college (with Kyler Murray) at Oklahoma. He said something similar at his press conference.
"What are guys good at?" Brown said. "Put everybody in a position to do what they do good and it's up to you to make the most out of your opportunity."
There is a reason to up his game, of course. While Brown dismissed questions about his deal – "I haven't even really been focusing on a new contract right now" – and he is signed through 2023 for $2.1 million this season and $13M next, better planned out production will only help in his negotiations.
Of course, targets, game-planned or otherwise, aren't going to be hard to come by after the suspension of DeAndre Hopkins. The Cardinals will likely need to lean on Brown in the passing game for at least six games.
But once Hopkins returns, there will be a lot of players looking for receptions – Brown, Hopkins, Rondale Moore, A.J. Green, tight end Zach Ertz and even James Conner at running back.
That's OK with Brown, who knows that when Hopkins is playing, it can only help him – another reason to potentially parlay going from the Ravens to the Cardinals as a benefit, even if he is the No. 2 wideout.
"I've been in an offense where I've been getting all the attention, I've been getting the cloud coverages," Brown said. "I'm excited to get some one-on-one matchups and spread the field out."
As Griffin tweeted, Brown didn't have a reception of longer than 15 yards in his last five Baltimore games, thanks to Jackson's injuries. With Brown being a "perfect fit" to the offense according to coach Kliff Kingsbury, it seems unlikely such a streak would happen in Arizona.
And that's just what Brown was looking for in a new system.
"I'm pretty fast, I can get behind the defense," Brown said. "That's what I'm good at."