Former Cardinals running back Stump Mitchell now coaches the position for his former team. He's spending the beginning of his summer vacation working with rookie RB Stepfan Taylor.


The lights were off inside the classrooms at the Cardinals practice facility Tuesday.
Class was over. The students were adjourned for the day. A few players lingered around the locker room, eating and joking. Then they left, leaving just Stepfan Taylor.
From the outside, the classrooms looked dark. Heavy doors kept the noise out. Blinds closed to keep out the light. Except in the running backs room, a bright light illuminated the faces of two men who, despite being miles away from a beach or a boat, were enjoying their summer vacation as much as anyone.
For a few hours late Tuesday morning, Taylor looked like he was back at Stanford University, from where he graduated Saturday, his face radiating with the glow of an overhead projector, his head buried in a spiral-bound notebook, his right hand rigorously taking notes. Staring back at him from behind the glow were pages upon pages of Cardinals' plays and protections.
And while his head was on a constant axis from the screen to his notebook and back to the screen, a soundtrack filled the background. The voice of running backs coach Stump Mitchell filled Taylor's blank canvas with protection calls and situational plays.
Mitchell pushed his vacation back a week to help Taylor, who had a lot of catching up to do this week. Because of the NFL's rules, Taylor was allowed to report for rookie minicamp after the draft in April but couldn't return to the team until after graduation. He missed 13 days of OTAs and minicamp, and at least double that in strength training.
He's been on overdrive since rejoining the Cardinals on Tuesday, learning the playbook, getting to know his teammates and adapting to an NFL workout regimen.
"What helps out a lot is being able to see film and just seeing how the paper translates on the field and what exactly they're talking about," Taylor said. "You see different things changing on the field. Those little key things help me out a lot but getting back out here feels great."
Despite missing nearly two weeks of on-field tutoring, Taylor has picked up the Cardinals' concepts and plays fairly quickly, Mitchell said. Both Mitchell and Taylor attributed Taylor's quick learning to Stanford running a similar offense but with different terminology – which Taylor identified as one of his toughest adjustments. For example, a "74" protection with the Cardinals was called "2 Jet" with the Cardinal.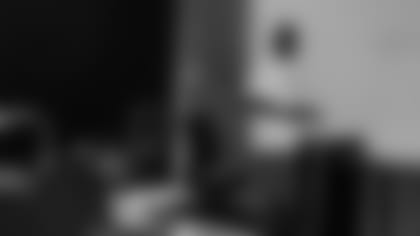 If you ask Taylor, he's far behind the rest of his teammates.
If you ask Mitchell, Taylor's not as far behind as he thinks. But the one-on-one sessions are meant to catch Taylor up to speed.
"It helps a lot and I respect that," Taylor said. "He's telling you what he wants and bringing his view of the game. You can tell he's an intelligent guy. (Stanford) coach (David) Shaw and my coaches back home said he was a great running back, as well. I respect that, especially hearing all this from a person who actually played.
"Not many people get this one-on-one time. This is real key for me being here and taking as many notes as I can to catch up."
After this week, Mitchell can get back to his vacation and Taylor will be left to studying on his own. Until training camp, Taylor can use an internal team website, Mitchell said, to study plays and can bounce questions off his teammates.
But Mitchell isn't too concerned about the Stanford grad making up for lost time.
"Stepfan is a smart guy," Mitchell said. "It's totally different than last year this time when Coach (Bruce) Arians was meeting with (former Stanford and current Indianapolis Colts quarterback) Andrew Luck, where he had to master the entire offense. He had to know a whole heck of a lot being the quarterback.
"Being the running back with us the primary thing (Taylor) has to know is his protections. He has to do that. His running skills and his ability to catch all of those things are natural as running back. I think he was able to grasp what we did (Tuesday).
"I think it's going to be quite easy for him to grasp it."