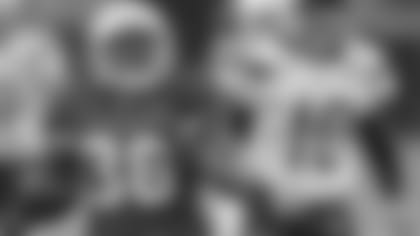 LaRod Stephens-Howling breaks away during his 89-yard kickoff return to open Saturday night's preseason game against the Chargers (AP photo).

LaRod Stephens-Howling may have found himself a spot on the roster. And the Cardinals' starting defense – still unscored upon in the preseason – showed an impressive pass rush.
The rest of the Cardinals' preseason home opener may have not turned out as coach Ken Whisenhunt wanted, not in a 17-6 loss to San Diego at University of Phoenix Stadium.
"You try not to get too excited about preseason," Whisenhunt said. "We didn't gameplan and they probably didn't. It comes down to individuals making plays and our defense made some plays.
"Unfortunately we didn't make some plays in parts of the game. But we learned a lot about our players tonight, which was important."
Of most concern was the failure of the offense to score touchdowns after two long Stephens-Howling kickoff returns, and the Cards (0-2) generated just a lone field goal after having three trips to the San Diego 13-yard line or closer.
Starting quarterback Kurt Warner was intercepted by Antonio Cromartie just outside the end zone and backup Brian St. Pierre threw an interception in the end zone, short-circuiting two obvious opportunities.
Warner finished 6-of-13 for 80 yards, although he said he felt just as comfortable this week as he did in the preseason opener against Pittsburgh.
"There were a couple plays out there where I was frustrated with myself after the play because I didn't step into the throw because of pressure and you know in the regular season, nine times out of 10, I step into it and make the play," Warner said. "With it being the preseason, does that play into it? It's hard to say. But you have to think subconsciously sometimes you can relax."
St. Pierre was given the second slot this week and even played with the starting offensive line when he first entered the game. But the interception – attempting to hit tight end Ben Patrick – launched a tough outing in which St. Pierre completed 6 of 15 passes for 79 yards.
Whisenhunt said St. Pierre was hurt by the injuries at receiver (Steve Breaston did not play and Early Doucet hasn't gotten a lot of practice time) and the coach said the wideouts sometimes ran the wrong routes.
Of the quarterback issues, said Whisenhunt, "That's just preseason football."
Matt Leinart made a fourth-quarter appearance, completing 6-of-10 passes for 74 yards.
The Cardinals, preseason or not, have to be happy with a defense that harassed Chargers quarterback Philip Rivers for four sacks in about a quarter's worth of work and rendered running back LaDainian Tomlinson ineffective while they played.
Darnell Dockett, Karlos Dansby, Calais Campbell and Bryan Robinson all had sacks, all of which came with the Chargers (1-1) in Arizona territory.
"Coach (Bill Davis) just said he wanted to let us go do one-on-one matchups and see what we could do," Dockett said.
The story of the night, however, was probably Stephens-Howling. The seventh-round pick continued his impressive surge toward a roster spot by taking his first NFL kickoff return back 89 yards to begin the game. The Cardinals couldn't punch it into the end zone – a third-down pass to Anquan Boldin was knocked down by Quentin Jammer – and the Cardinals had to settle for the Neil Rackers field goal.
Stephens-Howling, returning kicks with both Breaston and fellow rookie Michael Ray Garvin injured, added a 63-yard kickoff return later in the first half.
"That's one of the things they made clear, that I had to excel on special teams in order to make this team," Stephens-Howling said. "That is one of the things I have been working hard at so it feels good to see it paying off."