Quarterback Matt Leinart punches a heavy bag during his mixed martial arts training regiment, with trainer/Fox sports reporter Jay Glazer (photo courtesy Foxsports.com).
The conversation happened around the time of the Super Bowl, which Jay Glazer was on hand to cover and in which Matt Leinart was realizing he probably wasn't going to play.
Leinart knew Glazer, Fox's star NFL reporter, was heavily into mixed martial arts and had trained, among others, Vikings Pro Bowl defensive end Jared Allen. It was intense work Leinart wanted to try to aid his stalled career.
At the time, Leinart said, he merely wanted to "try something different." The passionate Glazer created a more in-your-face sell, saying Leinart approached him looking for "drastic measures" to improve professionally.
"I told him, 'Everyone thinks you are a (expletive)," Glazer said, using another word for soft, "and you should want to do everything you can do to be a killer.' "
The point to the training of Leinart – and a fellow Cardinal, linebacker Victor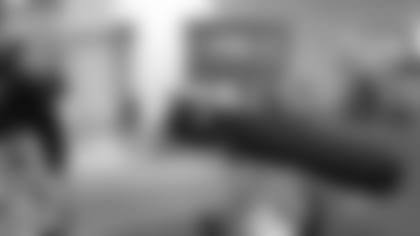 Hobson, who knew Glazer when Hobson played for the Jets – wasn't to become suddenly violent. It isn't even to turn into a fighter. The bodies of Leinart and Hobson are too valuable to suddenly start sparring in the brutal world of MMA.
The intent was to not only to change the players physically but to change them mentally, especially Leinart.
"I really had no idea what I was getting myself into," Leinart said with a smile. "But in a good way."
After the first day, Glazer – who lives in the Valley and trains with the Cardinals at Arizona Combat Sports in Tempe -- said he thought Leinart had "no shot" to return for more. When Leinart did come back, Glazer made it even more difficult.
"He was hurting," Glazer said. "I tried to get him to puke. I tried to get him to quit.
"But he is not the guy I thought he was. He is a tough dude."
The workouts for Leinart and Hobson, given their different positions, are correspondingly different. Leinart does a lot of work on his "core" – better to escape from would-be sackers – although he said his throwing arm also feels stronger with less fatigue during organized team activities.
Hobson's work has helped his hip rotation and in his explosion, although he said his biggest benefits have been conditioning and gaining a more focused mindset.
"You take boxing or MMA, it's one-on-one," said Hobson, who added he has long been a fan of both sports. "If you're not in shape, there is no one to blame but yourself. That approach goes hand-in-hand with that training, and I try to carry it over here."
The training has gone on for a little more than two months, three to four days a week. Leinart is Glazer's pet project, although professional fighters Ryan Bader and Jesse Forbes take part. Hobson mostly trains with Jamie Varner, the World Extreme Cagefighting light heavyweight champion.
The players put on gloves but Leinart just smiles at the idea he might fight some day. This is about training, not about roundhouse kicks to the opponent's head. Hobson admitted he would have loved to compete in MMA if he were younger, but his age and his job make training-only an easy decision.
"I get hit in the head enough playing football," Hobson said.
That doesn't lessen their enthusiasm, however.
"You kind of get addicted to it," Leinart said. "When you are hitting the bag and you start to see progress and you see yourself doing better, you want to keep going."
What it means for either player on the field has yet to be seen, although Glazer believes Leinart has toughened up mentally and gotten in better shape physically. Leinart isn't arguing. Hobson will have a chance to play an important depth role on a team that lost veteran Monty Beisel to free agency.
They'd each love to see a correlation to Allen, who had 7½ sacks the year before he started MMA training and had 15½ sacks the following season.
"What I wanted to do for Victor and Matt was for them to find the limits of what they could do," Glazer said, "and getting them to blow past those barriers."
---
Contact Darren Urban at askdarren@cardinals.nfl.net. Posted 6/9/09.