When Kliff Kingsbury was introduced as the new coach of the Cardinals, his father and brother both were able to come to Arizona and take part in the press conference.
Kingsbury's mom was not there. But she was perhaps the main reason Kingsbury found himself back in the NFL.
"She is my biggest motivation," Kingsbury said of his mother, Sally, who lost her life to cancer in 2005. "Every day I wake up trying to make her proud. She was an incredible mom and role model. This would've meant a lot to her."
Kingsbury's football path is well known, having played with brother Klint for father and head coach Tim Kingsbury in high school in Texas. Kingsbury acknowledges that, with hindsight, his father's tough ways as coach not only got him to an (albeit brief) NFL career at quarterback but also into a coaching career himself.
But as the Cardinals wrapped up a three-day rookie minicamp on what happened to be Mother's Day, it's impossible for Kingsbury not to feel the impact his own mother had on him, not only in life but in death.
"No question, it changes your perspective on lots of things," Kingsbury said. "How you approach things, not holding grudges, not taking things too seriously, and just really to not have a bad day. Watching someone go through something like that, it just gives you an appreciation for life.
"On her worst days, just the grace she showed and displayed and made sure, even though she was going through hell, everyone else got the best of her. As a coach, you try to make sure, every day you show up with people looking to you, you try to be consistent and have a positive attitude and that's something I learned from her."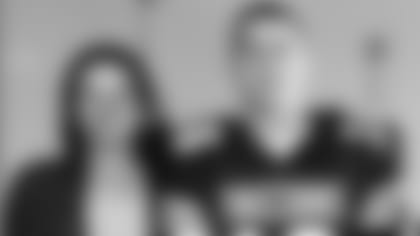 Sally Kingsbury was diagnosed in 2003, Kliff's rookie year playing in the NFL. She battled the disease through three rounds of chemotherapy and multiple operations.
She passed away in December of 2005, not long after Kliff was able to fly home from New York while playing for the Jets to say a final goodbye.
"Still the hardest thing I've ever been through," Kliff told the Los Angeles Times in December, "and nothing will ever touch that."
Tim Kingsbury, a Vietnam vet who had received the Purple Heart after a bullet shattered his jaw, could be hard on his kids as he tried to toughen them up both for football and life. Sally's positivity balanced that out, and she became the perfect sounding board.
"She was kind of the person I went to for advice on anything and was the one person I really opened up to," Kliff said. "It's something you can't ever replace, but our entire family always looks at it that we were very lucky to have her for the time we did."
When Tim Kingsbury came out to see his son's introductory press conference, he recounted the texting he had done back and forth with Kliff during the hiring process. Tim said his son had actually been the calming influence on Tim as they waited to see what would happen with the Cardinals.
The former prep coach was thrilled when his son told him he had gotten the job. But it was an emotional time too, knowing how Sally too would have felt.
"These boys," Tim Kingsbury said, "everything they got good was from her."
Kliff has always been ultra-competitive, to the point that Tim said he and Sally worried about how focused Kliff could get as a kid. But Kliff said that was tempered when his mom died. He made sure to appreciate every day. That's how Sally approached life.
"To have such an incredible woman, person, be our mom, she helped us live our lives in the exact way we wanted to," Kliff said. "She was always very supportive of us chasing our dreams."