Linebacker Chike Okeafor is anxious to play again after a biceps injury wiped out his entire 2007 season.
FLAGSTAFF -- The fear was somewhat natural, with the Cardinals losing one of its best defensive players to free agency in a haze of more than $20 million in guaranteed money and the questions of whether the team should have tried to re-sign Calvin Pace earlier.
Before Pace, though, there was Chike Okeafor.
It was Okeafor who was dominating training camp in 2007 in his new spot at linebacker. It was Okeafor who was going to be a breakout playmaker.
Then Okeafor tore his left biceps in the first preseason game. Pace stepped in, played well, made a fortune when he signed with the New York Jets. The Cardinals wanted Pace back.
To say the Cards will suffer defensively in his absence, however, could be
[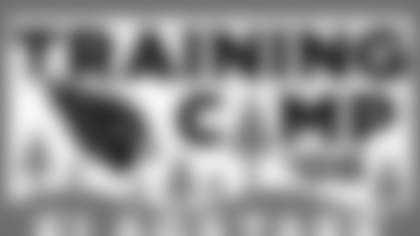 ](http://www.azcardinals.com/news/training_camp.php)
considered specious. Okeafor is the reason.
"If you forgot, well, OK, you'll be one of those surprised like, 'Who's that?' " Okeafor said. "C.P. was the one playing. He was the one they were watching. That's good for me. I don't need people to know I'm going to come out and … I'm not even going to finish that sentence. Let people find out for themselves.
"(Calvin) was the one people were seeing, and he played a great season, know what I'm saying? He deserved a lot of accolades. Can't spend time worrying about things like that. There are plenty of naysayers. Fine, forget about me. I have never had an unblocked sack. Forget about me so I will have my first unblocked sack."
Okeafor fashioned a career as an undersized defensive end over eight seasons going into 2007. The Cards saw his potential as a linebacker in their 3-4 hybrid look. Okeafor, who played linebacker in college, gravitated to the new spot immediately.
Okeafor stood out in training camp. His injury in Oakland was crushing.
At the time, the Cardinals weren't sure if Pace or Darryl Blackstock would take Okeafor's place. Pace won the job and, as it turned out, was another former defensive end who flourished in the new role.
"I like to think I took (sitting out) with grace, because you should, especially playing that many years and not missing a season," Okeafor said. "I know very well going out every game it might be my last game, not just out for the year. When I put on my tape and show my son my last play, he's going to say, 'You were going 100 percent.' "
Defensive end Darnell Dockett said Okeafor didn't disappear while he was injured, instead frequenting the Cardinals' complex, calling his teammates and standing on the sideline for home games.
Okeafor, Dockett said, "is a playmaker, man. He's one of those guys, it don't matter who he is going against, he's going to play hard."
The move to linebacker last season had reinvigorated Okeafor. Okeafor loves to rush the passer and the "David-versus-Goliath matchup" the 6-foot-5, 247-pounder got against mammoth offensive tackles.
He still gets that rush playing defensive end in nickel situations. Meanwhile, "linebacker is definitely more fun, dude. It's out in space, it's standing up, it's freedom."
Off the field, Okeafor comes across as mellow. On the field, he isn't. Sunday Okeafor mixed it up with tackle Levi Brown, knocking off Brown's helmet on one play, and then was chastised by coach Ken Whisenhunt when he took down receiver Early Doucet from behind.
It's a trade-off the Cards are willing to make.
"He was playing really well for us before he got hurt," Whisenhunt said. "It's good to see him out there."
The Cards may have lost Pace but they made sure they still have depth behind Okeafor, signing veteran Clark Haggans. It may not be an issue. Okeafor talks like a man who isn't worried about going down again.
Maybe it'll be enough to make everyone forget about Calvin Pace.
"I'm 32 years young," Okeafor said. "Never worked a day in my life. (This is) recess, dude. It is good to be back with the boys."
This article has been reproduced in a new format and may be missing content or contain faulty links. Please use the Contact Us link in our site footer to report an issue.