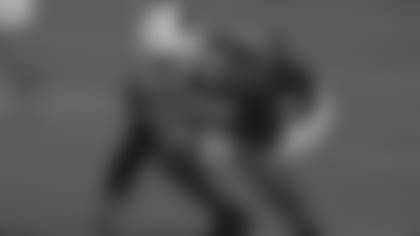 Tight end Ben Patrick works during Tuesday night's practice.

FLAGSTAFF – Earlier in camp, tight end Ben Patrick said he didn't think his impending four-game suspension to begin the regular season was affecting how the coaches were using him in training camp.
There's a simple reason for that, coach Ken Whisenhunt said. Patrick, like the other four tight ends on the roster, still has to prove himself as the Cards sort through the position.
"We have to find out about Ben," Whisenhunt said. "He's been a little inconsistent with his plays the first two years, and we were certainly excited about him last year in some of the areas we could use him in and then he was
Click the above logo for all the Cards' camp infoinjured."
Whisenhunt knows Patrick is capable of making plays, like his touchdown catch in the Super Bowl. But Patrick isn't going to be used less because he can't play in the first month, and he won't get extra work knowing he'll miss a month of practice either.
"We need to find out where he fits in to the tight end mix," Whisenhunt said. "We're not looking at the suspension where we have to give him more work or less work. It's just something you know is coming but we have to get prepared for what we plan to do in season."
Whisenhunt said the tight end race remains wide open, although Patrick and Stephen Spach were the starters in the first preseason game. Whisenhunt said the position, no matter who remains on the final roster, will once again be filled by committee.
"The guy that is out there that can do everything, you don't find those guys a lot," Whisenhunt said.
Rookie running back Beanie Wells finally got some reps in 11-on-11 during Tuesday night's practice, but on a play where defensive end Darnell Dockett knifed through, Wells said he twisted his bad ankle again.
"But it wasn't a major setback," Wells insisted afterward. "I tried to cut it back a little bit and kind of twisted it. But I was happy it didn't hurt worse than it did, so that's a plus."
Wells said he felt minimal pain, but on a pass play soon after, he had to slow up after a few steps because of the ankle. Still, Wells said, "I definitely hope to be ready Saturday" for the Chargers.
In what has become an annual rite of camp, Whisenhunt canceled the final morning practice of camp to take the team to the movies. Renting out a local theater, players and coaches were given four choices: G.I. Joe, District 9, The Ugly Truth and Funny People.
"I guess it's more of a superstition thing on my part," Whisenhunt said. "At least, that's what the players are saying. It was a nice break."
Whisenhunt nodded his head when asked if the players figure out the "secret" trip ahead of time. "I think they know, or they hope," Whisenhunt said. "Boy, if we had tried to practice today, it wouldn't have been pretty."
With injuries to Early Doucet (shoulder), Steve Breaston (knee) and Michael Ray Garvin (knee), the Cards signed wideout Steve Sanders Tuesday. Sanders has appeared in five NFL games since entering the league in 2006, making one catch. He'll give the Cards another pass catcher heading into the Chargers' preseason game, given the likelihood all three of the current downed Cards won't return by Saturday.
To make room for Sanders on the roster, the team waived due to injury safety Dennis Keyes, who hurt his calf in the preseason opener.
Garvin should undergo his knee surgery Wednesday or Thursday, Whisenhunt said. Once that occurs, Whisenhunt said he should have a better idea of Garvin's timetable for a return.
Cornerback Michael Adams returned to practice with his sprained ankle, but three new players – cornerback Bryant McFadden, defensive tackle Bryan Robinson and linebacker Ali Highsmith – ended up sitting out practice with undisclosed injuries. Still sidelined were defensive end Keilen Dykes (quad) and tackle Elliot Vallejo (dislocated kneecap).