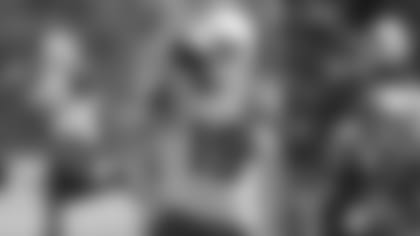 Wide receivers Sean Morey (left), Lance Long (19) and Early Doucet (80) are battling for roster spots at a loaded position.
Their play brings a smile to the face of Kurt Warner, and instills confidence in Ken Whisenhunt.
It also raises the level of every single one of the players involved.
But the impressive training camp of the Cardinals' wide receiver unit makes it hard for the players involved, too. Jobs are on the line, and while many of the wideouts are showing they deserve an NFL opportunity, there are only so many opportunities available in the Cards' high-flying offense. For every play one receiver makes, another receiver seems to follow up.
Even down-the-depth-chart guys like Onrea Jones and Ed Gant have provided impressive camp moments.
"I try to block it out," said a grinning Lance Long, one of the top candidates,
"but it's hard not to notice."
The realities are stark. The Cardinals
Where: University of Phoenix Stadium
Radio: News/Talk 92.3 FM and Sports 620 KTAR (pregame at 4 p.m.)
have three 1,000-yard receivers in Anquan Boldin, Larry Fitzgerald and Steve Breaston, a trio who own the top three spots on the roster. Jerheme Urban could have been considered a bubble guy when camp opened, but that's been dashed with his exceptional play – "He's had as good a camp as anybody," Whisenhunt said – and Urban is a virtual lock as fourth receiver.
So as the Cards head into their second preseason game against San Diego Saturday night, precious few roster spots remain available. Given the Cards' passing ways, they should end up carrying six wideouts, although there are three main possibilities for those last two slots.
There's Long, the second-year man who is practice squad-eligible but who will likely have a tough time passing through waivers if released. There's Early Doucet, who has struggled with injuries his first two training camps but was the team's third-round draft pick in 2007. And there is veteran Sean Morey, who has less upside as a receiver but is the NFC's reigning Pro Bowl special teamer and a key member of the Cards' special teams units.
"There are tough choices," Whisenhunt said.
Morey knows outsiders' perceptions of him. He has worked hard to become a viable receiver even as he understands his role as a special teamer. His comfort level has grown as a pass catcher, he knows the offense better than he ever has, and most importantly, his Pro Bowl status gives him an added advantage in sticking around – although Morey insists he doesn't look at it that way.
"I come into camp every year thinking I have to prove myself as a receiver," Morey said. "I know if you don't start on Sundays you have to find a way to contribute and my way to contribute has been in the past on special teams. When you are a pro, a true pro, you know your role and expect your role, knowing it can change from one week to the next."
Long has made progress as a slot receiver and looked solid in the preseason opener in Pittsburgh. But what remains cloudy is what he could contribute on special teams, a role that seems to be a must for a fifth or sixth receiver.
Still, the 5-foot-11 Long believes he has shown he has what it takes to play in the NFL, after his meager beginnings as an undrafted rookie. Whether that translates into staying in Arizona, he doesn't know.
"Once you start thinking about making it bigger than it is, that's when you start making mistakes," Long said. "I try to have fun, as much fun as I can have. I know it is hard to have fun sometimes."
Doucet is the wild card. His draft status would seem to guarantee he won't be released. But for a second straight year, an early training camp injury – this time, a bad shoulder – kept him out of the majority of practices and put him behind his competition.
That's why Doucet just shakes his head when his pedigree is brought up.
"I definitely don't feel safe," Doucet said. "Third-rounders have been cut. That's the business side and I have to look at it like that."
Doucet's return from injury has been slow and inconsistent. He missed the Pittsburgh game but should be able to play against the Chargers. It's ironic that his injury came when he made one of the most spectacular catches in recent camp history, diving full out to snare a pass.
"If I had the same situation come up again and I had to dive for a pass again, I would dive without thinking about it, because that is my job," Doucet said. "You have to go all out to earn a position on this team."
The competition makes it harder, but ultimately could make the Cards' passing game that much better. It's no wonder Warner is smiling.
"We're built perfect," Warner said, "for me."