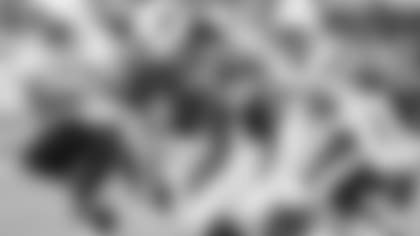 Tim Hightower, who averaged 4.7 yards a carry against the Chargers last weekend, is the new leader of the running backs.

As the man who was king of the Cardinals' running backs this time last year was on the verge of signing with division rival Seattle, Tim Hightower talked about the different dynamic with the position.
The landscape certainly has changed.
Hightower was the rookie a year ago, the new guy trying to fit in with Edgerrin James and J.J. Arrington. Arrington is gone, having left as a free agent and with knee troubles threatening his 2009 season, while James looks like he will be a Seahawk.
So now Hightower is the leader despite his young age, in front of a couple of rookies like Beanie Wells and LaRod Stephens-Howling and a veteran – Jason Wright – who has never fully established himself as a runner. This is the group coach Ken Whisenhunt is counting on to raise the Cards' from statistically the worst running game in the NFL a season ago. And it's a group that has fit well together as each guy finds his place.
"I think we're about mutual admiration and help," Wright said.
"It's a lot like college, where we were all very close and that's how it is here," Wells said. "Tim is a great leader and so is Jason Wright and they really mentor us. You'd think with the competition Tim would be all about himself but he's really not. He's the type of guys who reaches out."
That was always important to Hightower, who was oft effusive in his praise of James last season as James brought him along. If Hightower's ascension to starter last season was sudden, it was nothing compared to his rise among the running backs.
"I am more accountable now," Hightower said. "I try to isolate myself sometimes but I can't do that. Guys are looking to me for direction, they are looking at me at practice – if I go half-speed, I am responsible for them going half-speed. I think it will make me a better player. It is making me learn and mature faster and I think it's helping them too see someone not too far removed from what they are going through."
Coach Ken Whisenhunt insisted he feels good about his running back situation. Hightower is running more effectively this season, Wright is doing the things asked of him, and Stephens-Howling "has had an impact," Whisenhunt said.
The only missing piece has been Wells, and Whisenhunt should get a better sense of what Beanie will bring starting Friday night – when Wells is scheduled to make his preseason debut after hobbling around on a sprained ankle most of camp.
Keeping four backs on the roster is no lock. Whisenhunt said it's a possibility, but it is weighed against the rest of the roster and players available. Hightower, Wells and Wright will make the team; it is Stephens-Howling that will have to wait to see if he is roster-bound or a practice squad candidate.
The production will start with Hightower regardless. Whisenhunt said he thought his team improved in the playoffs last season with its ability to run the ball, although he wants to have a team that can grind the clock in the second half if the Cards are up by double digits.
Hightower has looked better in the preseason in how he has run, although he doesn't think he has changed. It's simply progress, he said, and that's what he is trying to do every day.
"I was always taught be more critical of yourself than anyone else is," Hightower said, adding "Appreciate what you did, but learn from mistakes. You don't want to dismiss the good, but eliminate the mistakes as much as you can."
Perhaps this is the group of backs that can give Whisenhunt the running game he has wanted. Maybe it's the group that finally elevates the Cardinals' ground game to something beyond average.
They mesh well off the field. But it will be how they mesh on the field that counts.
"It's a talented running backs room, but they say talent and 50 cents gets you a cup of coffee," Wright said. "That's what my old running backs coach used to say, and it's true. Yes we have talent, but we have to keep working."