Missouri quarterback Chase Daniel, here going through the interview process with the media, is one of hundreds of players who will also go through the interview process with teams.
INDIANAPOLIS – The Cardinals were looking for depth on their defensive line, so Calais Campbell intrigued them.
But with a player like Campbell, whose raw talent didn't match up a relative lack of production his final year of college, the Cards needed more. Once the staff interviewed Campbell at the scouting combine, the Cards had that extra confidence.
"I remember Calais Campbell," coach Ken Whisenhunt said, "and what a great job he did. That contributed to the fact we picked him."
Like most everything connected with the combine, players are trained for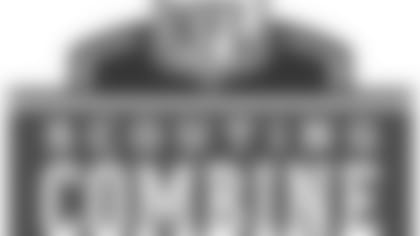 interviews with teams. Agents know the types of subjects to be broached. There are informal gatherings for players and team personnel when players first arrive, and then teams can schedule up to 60 15-minute formal interview sessions.
The top players are shepherded from team to team as scouts, coaches and personnel men try to glean what kind of person the player might be.
"It's a trend for players to get coached up but I think the process still serves a purpose," Cardinals director of player personnel Steve Keim said. "You can see a person socially, and there is a lot of things you can read into that."
Said 49ers coach Mike Singletary, "That's what I look forward to when I come (to the combine), how does what I see here match up with what I am looking at on film?"
Interaction with players during the scouting process is limited, Keim said. While some schools allow scouts to talk with players, for the most part, colleges shut that down in an effort to keep players focused on the college season.
Whisenhunt directs much of the formal interviews with players. Some of the topics range from an X-and-O breakdown of a play to a player's background, topics most players are oft schooled in. But Whisenhunt also tries to work in a couple of curveballs, questions meant more to elicit a certain reaction rather than a certain answer.
"I think he forces the players to think about the type of questions being asked," Cardinals general manager Rod Graves said.
Singletary said he is looking at body language as much as what is said. In the end, how much comes out of an interview evolves on a case-by-case basis.
"Sometimes it can be a sparring match for 15 minutes and guys can rope-a-dope, a little Muhammad Ali and not take any punches," Lions coach Jim Schwartz said. "You probably need to get a little more in-depth with some guys. With some guys, 15 minutes is plenty. Other guys, 15 minutes is just a precursor for further down the road."
The interviews may be the most important of the combine for teams. Teams get to learn first-hand of a player's medical situation, which is crucial. And while the times and drills matter, scouts already have a good sense of what players can do on the field thanks to the studying of game tapes.
Then again, many players have a good sense of what the teams are looking for during the interviews.
"By this point they should kind of know my background," California center Alex Mack said. "I talked to tons of scouts over at the Senior Bowl and here about who I am and things like that. I'll play hopscotch with them whatever they want. I love football.
"I've had a lot of experience now. The Senior Bowl was a good warm-up for talking to teams, talking about football, talking about myself. I feel completely comfortable with whatever they have to offer."