Anquan Boldin looks to throw a pass Saturday during Kurt Warner's annual charity flag football tournament at the Cards' Tempe complex.
Think of Saturday's version of Anquan Boldin as kinder and gentler.
At least, that was how the Cardinals wide receiver was treating his annual turn as a quarterback during teammate Kurt Warner's charity flag football tournament. Boldin knows his reputation after busting a nose and breaking a finger a couple years ago with his high-velocity passes.
"I've tried to stay away from that," Boldin said with a smile. "I tried to go with the touch passes more this year, so we don't have guys going home and their wives mad at me."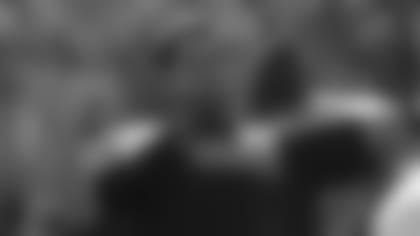 Matt Leinart said Saturday he does not want to be traded despite Kurt Warner's new two-year contract.
Gentle wasn't necessarily the way Boldin handled the other topic of the day -- his ongoing contract issues, and the fact Saturday was the first time he talked since his willingness to accept a new deal became public. But Boldin wasn't going controversial either.
Backup quarterback Matt Leinart was also playing, making it the first time Leinart was available since Warner signed his new two-year contract – which basically keeps Leinart waiting for his chance to take over the franchise.
Both players said about what was expected Saturday, unwilling to cause a fuss on a day that raised thousands of dollars for Warner's First Things First foundation. Leinart said he didn't want to be traded. Boldin said he is letting his agent take care of contract talks.
"Me, I am enjoying the offseason," Boldin said, "and I plan on continuing to do that."
Boldin said he is "fine" with the situation right now. Asked if he wanted to be in Arizona, Boldin said "we will see what they say," referring to the organization. "This is totally out of my hands."
"I mean, when it gets done it will get done," Boldin said. "I can't worry about when or if it is going to happen. Then I won't be able to enjoy myself. The only thing I can do is worry about myself, continue to work and stay in shape. (I will) enjoy the offseason, because the season comes around quick."
Warner and Boldin have been constantly talking and texting back and forth this offseason, and Warner said he takes every opportunity – including Saturday – to remind Boldin how much he wants him to stay a Cardinal.
"He knows I love him and he is important to our success and what we do on the football field," Warner said. "I don't think there is any question in his mind I want him back. I just keep praying and believing we find a way to get it done for the next couple years and keep this thing together."
Leinart apparently plans on also being part of what the Cards have built.
After Warner re-signed, it was assumed Leinart may seek a trade to go to a team where he won't be on the bench. Leinart was blunt in his response to such a scenario, saying "I am under contract here and I am not looking for a trade."
The Cardinals wouldn't necessarily be in any rush to trade him, either, with Leinart's contract containing manageable salary cap numbers the next two seasons.
"Kurt is a great quarterback and I know he is the starter going in, obviously," Leinart said. "But I am going to compete. I want to play. That is the mindset you have to have. But as far as trades, nothing has come up, I am not thinking about it. I am under contract here and I plan on being here."
Leinart said that after Warner took the Cards to the Super Bowl, he figured Warner would be back – even after the deal didn't immediately get done and Warner took a trip to San Francisco to visit the 49ers.
"I knew he was going to come back here," Leinart said. "My whole mindset is I can control what I can control. I will be ready to compete and play. I feel I am ready to play. But I can't control anything else other than what I do in the offseason and how I prepare."