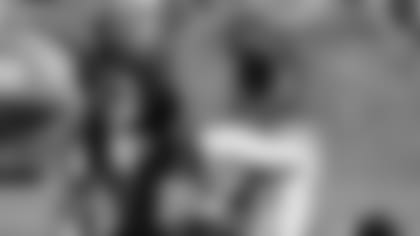 Veteran pass rushers Bertrand Berry and Clark Haggans take a break during a training camp practice in Flagstaff.
FLAGSTAFF – To Clark Haggans, it's like dancing.
A violent dance, without any real choreography. The art of the pass rush can, like the ideal implies, be a beautiful thing. It can be a mess aesthetically too – not that it matters if the quarterback is eventually sacked.
"You've only got a few seconds," said Haggans, the starting left-side linebacker when the Cards line up in the 3-4 alignment and a man with 32½ career sacks to his name. "You think about getting off the ball, then you look at that O-lineman and his position, 'Did he open up? Did he kick wide? Did he kick out? Is  
"You try to correlate it with your hand and feet, so you can swap, swat, bull rush, (use a) spin move, (use a) dip and rip. Then there is the 'any means necessary" way to get to him. It's the ugly way but if you can get to the quarterback before he gets rid of the ball, the coach isn't going to get mad at you."
The Cardinals have veterans who have crafted the techniques over the years. Haggans' fellow starting outside linebacker, Chike Okeafor has 49½ sacks. Okeafor's backup, Bertrand Berry, led the Cardinals in sacks with five last season, has 59 in his career and made the Pro Bowl in 2004 with the Cards when he had 14½ that season.
Those are the players – along with defensive lineman Darnell Dockett and perhaps Calais Campbell – who will need to provide pressure on the passer this season. The Cardinals did draft linebacker Cody Brown in the second round, but he has a steep learning curve and is behind Okeafor and Berry on the depth chart.
Brown, in theory, will learn about this art from guys who have done it.
"There is something to be said about guys getting to the quarterback and getting him down," Berry said. "If it was really something easy, guys would have 100 sacks in a year. You try to work on it the best you can, get as much information as you can before the snap, work your craft as much as you can in practice."
The starting point for a player needs to be obvious. Defensive coordinator Bill Davis said it's much easier to acquire a pass rusher and teach that player how to play the run and cover – like Brown, a defensive end in college – than taking a strong player against the run and teaching them to get to the quarterback.
Even the guys who can negotiate the dance with the blocker may not be a good fit, because they may not be able to keep track of the quarterback.
"Even if a guy wins, it doesn't matter," Davis said.
Coach Ken Whisenhunt said his defense has done a good job getting pressure on the passer "at times." Consistency is the goal now, Whisenhunt said. That means that there will be times when the high-profile players need to be "unselfish" and hit the proper gap, taking up multiple blockers and freeing a teammate.
"That takes discipline and it's not always easy, because when you have guys that rush the passer, that's what they want to do – rush the passer," Whisenhunt said.
When a team works the art of the rush well, it changes the complexion of a game. Pressure – not even necessarily a sack – can ruin an offense when applied properly. When a team can't generate a pass rush, it may not matter how well the rest of the defense is playing.
That's why Whisenhunt thinks his rushers must work in tandem, and why Berry believes the art of the pass rush begins with cohesion with teammates.  
"There are no guarantees," Berry said. "You have to make sure you have a plan. A lot of guys they get to the quarterback but for some reason it just doesn't happen. You just have to keep working at it and hopefully more times than not you'll have success."