Wide receiver Larry Fitzgerald (right) battles cornerback Ralph Brown for a pass during a recent practice in Flagstaff.
FLAGSTAFF – The résumé is packed with proof Larry Fitzgerald has reached the top in just four NFL seasons.
Two 100-receptions seasons. Two 1,400-yard seasons. Two Pro Bowls. A brand-new $40 million contract that will allow him to become a free agent in just four years, when he is still at a prime age of 28.
The numbers aren't enough for Fitzgerald. He, like teammate Edgerrin James, is driven by the idea he can reach legendary status. That's why, despite all that Fitzgerald has already done, he wants so much more.
"Getting to the Pro Bowl every year is not going to make me a great player and that's the goal, I want to be a great player," Fitzgerald said.
He added this line about his potential legacy: "I want to be a guy who, when you
[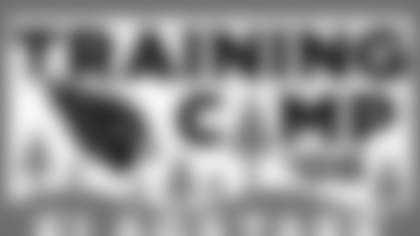 ](http://www.azcardinals.com/news/training_camp.php)
think about the Arizona Cardinals, you think of Larry Fitzgerald."
So where does a man who is coming off a 100-catch, 1,409-yard season go? It sounds odd. Even his teammates understand that.
"He still has room to improve," quarterback Matt Leinart said. "You say, 'How does that happen, he's been to two Pro Bowls, he gets 100 catches every year?' … The biggest thing with Fitz is the routes and understanding the game.
"I think he knows he can still improve, and that's a scary thought because he's already really good."
Offensive coordinator Todd Haley said Fitzgerald, who turns 25 Aug. 31, is self-motivated. That didn't stop Haley, during a recent drill designed to force receivers to reach back at a bad angle to make a catch, to chastise Fitzgerald. After Fitzgerald tried to grab the ball with only one hand, Haley barked in half-jest, "You want some mustard with that hot dog?"
The main way to stay on Fitzgerald, Haley said, is to continually ask the receiver if he wants to be good, or great, or one of the best.
"You keep reminding of that, that's what I want to do," Haley said. "His answer is always, 'I want to be the greatest ever.' "
Haley can points to specific areas in which he'd like Fitzgerald to improve. So good already at staying on the outside and winning jump balls against defenders, Fitzgerald must get better at running intermediary and inside routes, Haley said.
Fitzgerald's running after the catch has also been one of Haley's pet projects. Haley estimates that Fitzgerald could have had 300 more yards and five more touchdowns (he had 10) in 2007 had Fitzgerald been more aggressive after the reception.
"He hurt himself and us last year," Haley said.
In that case, there may have to be some compromise. Fitzgerald said he does want to improve his route running so that, when he is making a catch, he has enough separation to gain more yardage. But the 6-foot-3, 220-pound Fitzgerald has a fundamental disagreement with Haley about being more physical.
"(Todd) is always on me to run guys over but that's not really my game," Fitzgerald said, allowing a small smile. "I'm not trying to get banged up too bad. I pick my spots. Running over linebackers and stuff, that's Q's (Anquan Boldin) expertise."
Long talks with teammate Kurt Warner, who played with Torry Holt and Isaac Bruce in St. Louis, have convinced Fitzgerald a perfect route cannot be defended. The opposition may call the right defense. They may double-team Fitzgerald. But Fitzgerald believes if he is precise in his route, he will get open.
Fitzgerald said he tries to pick the brains of former players like Cris Carter and Jerry Rice because "they have written the blueprint of being great."
"Great" doesn't come with only two Pro Bowls. For Fitzgerald, it's not hard to figure out where he should go from here.
"When I first got in the league, I wasn't bad at practice, but I wasn't great either," Fitzgerald said. "As I have gotten older, I see how important practice is. You can't let a practice go by because guys are gaining on you."
This article has been reproduced in a new format and may be missing content or contain faulty links. Please use the Contact Us link in our site footer to report an issue.