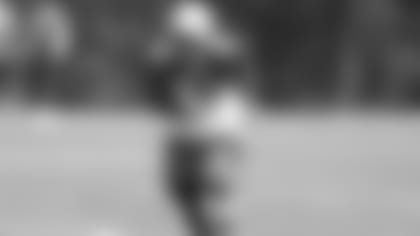 Antrel Rolle returns a punt Monday at practice

FLAGSTAFF – Everyone has seen what Antrel Rolle can do with the football in his hands. He already has four interception returns for a touchdown (and a fumble return for a TD in the playoffs) and that led the Cards to try the safety as a slot receiver a couple of times.
It's also why the Cards want to look at Rolle as a punt returner, and why Rolle would want the job.
"It would be something I would take a whole lot of interest in," Rolle said. "I love punt returns. That was always my number one love growing up in high school and college."
But for now, coach Ken Whisenhunt sounds like he is planning on keeping Steve
Breaston as both his kickoff and punt returner. Whisenhunt noted Breaston's sure-handedness as a punt return man – he has yet to fumble in two years.
Rolle badly sprained his ankle the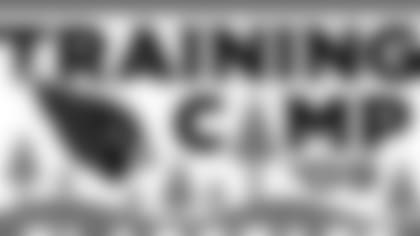 very first time he tried to return a punt in the preseason last year and never got another chance.
"I don't think you can ever have enough of those guys," Whisenhunt said. "With Steve's situation, maybe it's a spot where we need someone else to do it to spell him when he needs a blow.
"From this point, I am very comfortable with Steve as both. But we are always looking to have other guys do it because you don't want just one guy who can do it. We will know a lot more after the preseason games."
In the morning, wide receiver Early Doucet made arguably his finest catch since joining the Cardinals – leaping in the air and laying out to grab the ball parallel to the ground.
"I was just trying to make a play," Doucet said. "That's what you're trying to do as a football player."
When he landed, though, Doucet hurt his shoulder, staying down for a few minutes. Doucet thought he had dislocated it, but an MRI revealed only an AC sprain of his left shoulder. Doucet, wearing a sling, said he hoped to be back in just a week – which would mean he still has a chance to play in the preseason opener in Pittsburgh.
"It's unfortunate but that comes with the territory," Doucet said.
Doucet missed almost all of training camp last year with a lingering hamstring problem, and Doucet's initial thought was that he was going to have it happen again. Missing time as a wide receiver isn't good on a roster loaded with roster candidates.
But at least Doucet left an impression before getting sidelined,
"All the coaches were telling me it was a great catch," Doucet said.
WARNER'S HIP WON'T STOP HIM
Quarterback Kurt Warner was talking about his nagging right hip pain again Monday when he was asked if it could end up costing him practice time or snaps in the preseason.
The question wasn't even out of the reporter's mouth when Warner cut him off. "Of course not," Warner said bluntly.
Warner admitted he is in more pain standing in front of the media talking than when he is on the field. He said he and the trainers were still trying to find the best course of action so he can continue rehab while participating in camp.
"It's not stopping me from doing anything," Warner said. "I can function with it. You just always want to be healthy."
Defensive tackle Gabe Watson (knee), cornerback Bryant McFadden (ankle) and tight end Stephen Spach (knee) were the new players sitting out practice Monday, although none of them are deemed serious. …
Fullbacks Justin Green (knee) and Dan Krieder (hamstring), linebacker Chike Okeafor (back) and running back Beanie Wells (ankle) remain out.