The idea behind National Girls and Women in Sports Day is not only to recognize female athletes, but also to understand the how participating in sports can influence girls/women, and -- while progress has been made -- recognize the continuing battle for equality for women in sports.
So as Feb. 1 arrives, the Cardinals recognize the many women who make an impact every day on the organization, starting with one of the top decision-makers in Lisa Manning, the senior vice president of marketing. The sports landscape has been improved with women's ideas and perspectives, beyond those playing the games or appearing on TV.
"The women within our organization are phenomenal," senior accountant Thedra Dunbar said.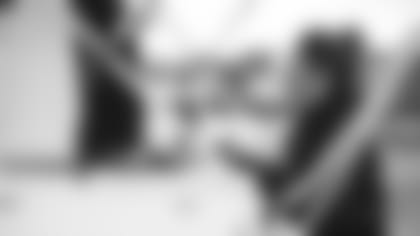 SHELBY MEYER - FOOTBALL VIDEO ASSISTANT
Meyer just finished her fourth year with the Cardinals as a video assistant on the football side, one of the crew deeply embedded with the team shooting video of practice and games (the kind of video often called the "all-22") for players and coaches to later break down, review and scout.
Originally a mechanical engineering major, Meyer earned in-state tuition as an out-of-state student by working in her school's athletics video department, mainly helping with the football program. She enjoyed it so much she moved her major to digital media, earning internships with the Colts and then the Cardinals before her first job with DVSport as a replay manager working mainly with NCAA football and basketball. She joined the Cardinals in 2019.
"My favorite part of this job is being around so many like-minded people that love the game," Meyer said. "I like that every day brings something different but everything is very scheduled. Each week we have a new opponent to prepare for and watching that process is exciting. Being able to provide the coaches, scouts and players with a crucial part of their job is exciting, and getting to watch the end product each week after seeing everyone prepare really changes the way you see the game, the players, coaches, and organizations as a whole."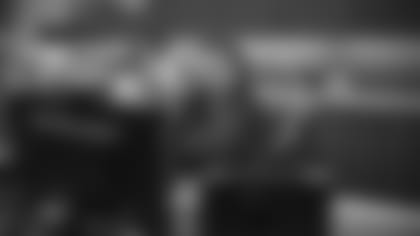 MACKENZIE SANFORD - SUPERVISOR, TICKETING OPERATIONS
Sanford just finished her 10th season with the Cardinals, the last nine of which have been in the ticketing office. It doesn't get any more front-facing with the public than Sanford, who is the initial contact either in person or over the phone for a number of fans and clients of the team.
In college, Sanford worked part-time as a videographer for the sports information department, covering football, men's basketball and women's volleyball. She started with the Cardinals a year after graduation, her first full-time job after working part-time for a marketing company. Originally, Sanford wanted to work in event planning, but as a senior, after taking a sports communications course, her viewpoint changed. The final exam was to create a cover letter to "apply" for a sales position to an NBA team. Sanford ultimately used that letter as a starting point when she applied to the Cardinals.
"I like the the impact that we have," Sanford said. "Sports is not just about winning or losing, but the lasting impact you leave on the fans. My passion for event planning stems from wanting to create meaningful experiences that guests will remember and share with their family and friends for years to come. It is special to know that we play in a part in these memories."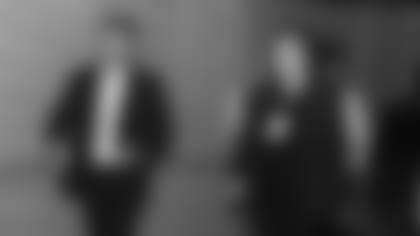 KRISTI JOHNSON - DIRECTOR OF SECURITY
Kristi Johnson has been with the Cardinals since 2018 only after retiring from a distinguished career in law enforcement -- a retirement that she admits came young and not "as ready to retire as I thought I was." The Cardinals happened to be looking for someone with Johnson's skillset in their security department -- particularly the areas of threat assessment and dignitary protection -- and Johnson was a fit. Sports just happen to come along with the job.
At the Arizona Department of Public Safety, Johnson worked among other roles as a detective, and was at one point assigned to the Governor's protection detail. With the Cardinals, among Johnson's responsibilities are securing training camp both at the stadium and at the team hotel; working with stadium security crews at home games with potential fan misconduct; overseeing the postgame friends and family area for players and coaches both home and away; escorting VIPs at home games and helping the onboarding of the travel party on all legs of road games.
"The staff, players, their families, and the fans are what make my position worthwhile," Johnson said. "At my core I'm a public servant and being able to continue helping people in any way no matter how big or small the issue is where I get my job fulfilment the most. This group of people being part of the team either directly or indirectly is what I like most about working in sports. Not the game itself, but the people who make it the team."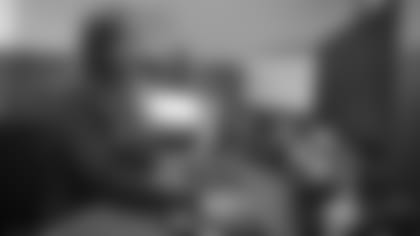 THEDRA DUNBAR - SENIOR ACCOUNTANT
Once, Thedra Dunbar was planning on becoming a nurse. Her job with the Cardinals was supposed to help sustain her while she earned that degree. But instead, she found herself getting more interested in moving up the ranks in the Cardinals finance department, where 11 years later her focus is on the concessions and catering processes at State Farm Stadium and some of the smaller event companies.
Sports was never the goal. But for Dunbar, being immersed in the organization grew a love for football and an enjoyment of being part of the franchise.
"I love the team atmosphere that you are catapulted into when working in sports," she said. "Regardless of our individual roles, we all have one common goal, and that is to contribute to creating a championship team. I love the buzz of the office when we experience an insane win. I also appreciate the resiliency we display after a loss or a difficult season. It's a rollercoaster ride, for sure, but with each new season there is a newfound sense of excitement, hope, and anticipation. To witness that same energy in our building radiating throughout the community is extremely rewarding. It's a family I'm proud to belong to."
REBECCA CHILDRESS - COORDINATOR OF PEOPLE OPERATIONS
Only six months into her time with the Cardinals, Childress just earned a Masters in Sports Law and Business a year ago May. She is a part of the Cardinals' people operations department, the organization's name for human resources. For Childress, that includes leading the team's program on diversity and inclusion; event planning for the club in conjunction with non-profits and the Super Bowl; employee engagement; and overseeing 150 students in the Cardinals' game day operations internship program.
Childress had wanted to be involved with sports since she was a kid. She grew up playing soccer and competing in track and field, and served as kicker for her high school football team.
"I've always been interested in how sports often mirror society and how they can be an agent of change in a lot of situations," she said. "I love that each day is a new challenge. Between games and then events at the stadium, there are constantly things going on that I get to be a part of."