Cardinals strength and conditioning coach John Lott yells encouragement at a draft prospect during the scouting combine's bench press (Photos courtesy NFL.com). 
INDIANAPOLIS – The young safety from the south was just another number to John Lott at the 2001 NFL scouting combine, but as was his way, Lott gave him a nickname.
When Lott looked at the player, he couldn't believe the resemblance to former Broncos Pro Bowl safety Steve Atwater. So the player became "Atwater."
Six years later, Adrian Wilson approached his new strength and conditioning [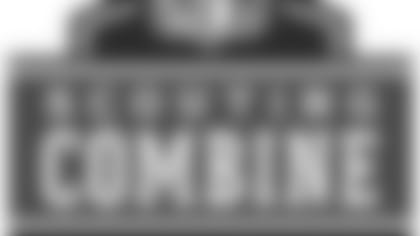 ](http://www.azcardinals.com/fanzone/combine.php)coach and asked Lott if he remembered the moniker. And there, in his filed notes, Lott found Wilson's nickname scribbled down.
"It's funny how things turn out," Wilson said.
The nicknames are still part of Lott's repertoire as he runs the bench press drills at the annual combine. In what would normally be another mundane station prospective draftees must get through during their extensive "job interview," Lott's penchant for high energy and his catch-phrase style of communication has turned the bench press into an event.
Thanks to the television coverage of the NFL Network, it's also turned Lott into one of the combine's stars.
"That's what I have always been doing," said Lott, in his 12th year running the bench press. "Just now it's on camera."
But Lott acknowledges his part at the combine has "caught fire," and is light years away from the boredom-inducing drill it once was.
When he took over, Lott told then-combine organizer Duke Babb he would be himself. And then he did just that.
Lott sees himself as the face of the NFL coaches, the prospects' first glimpse at what it will be like to deal with an NFL coach.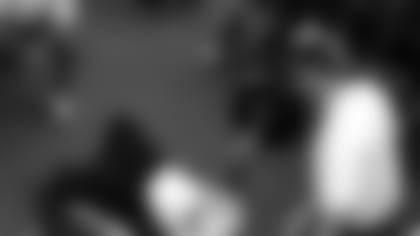 "The problem is, they will come in after just doing a Wonderlic test or just getting back from the hospital, and it's like, 'Where am I?' " Lott said. "And I am (clapping), 'Wake up, dude! This ain't no Wonderlic test. I ain't your grandma, I'm a stinking coach. And in that room over there, I have every position coach (at that position) in the NFL right now.' "
Said Wilson, "He's like a splash of cold water."
Lott, who teams with Denver strength coach Rich Tuten to run the drill, can cut an intimidating path. Cardinals wide receiver Steve Breaston remembered his trip to the 2007 combine, knowing he wasn't going to do the bench press until later at the University of Michigan pro day.
But Breaston, as with every player, still had to report to Lott and sit in the room.
"I knew I wasn't going to lift and he was asking who wasn't lifting," Breaston said with a smile. "I could barely look in the man's eyes."
Many times, Lott said, players who weren't planning on lifting decide to do so after getting into the intense world he creates in the room. (It doesn't hurt the proceedings are on TV, either.)
Lott doesn't think he does anything special, calling himself "dumber than a sack of hammers." But he does feel his strength is motivating a player to push himself to new limits on the bench press.
That happened this year with Michigan tackle Jake Long. Long, who will be a top five pick, finished with an offensive linemen-best 37 reps at the 225 pounds. But Long seemed to plateau at 35 – until Lott verbally pushed him to two extra reps.
More than anything, Lott is known for his nicknames.
It began as a device to differentiate between the dozens of players he met and watched. Before they became Cardinals, guard Deuce Lutui was "Pineapple" and defensive tackle Alan Branch – because of a facial resemblance -- was infamous record producer "Suge Knight."
Future Browns quarterback Brady Quinn was "Sunshine," a term Quinn apparently got enough of a kick out of that he sought out Lott to say hello after the Browns-Cardinals game this season.
It makes for surprisingly compelling television, given the subject matter. But it is also just another detail in what Lott is in Indianapolis to do.
"It is an honor to represent the NFL strength coaches, really all the NFL coaches," Lott said. "And this is something mano y mano. It's like a fistfight. Out there (on the field), you are going through bags, well, a lot of guys look pretty going through bags. (With the bench press), you can't fake this one. Either you have been lifting or you haven't."
This article has been reproduced in a new format and may be missing content or contain faulty links. Please use the Contact Us link in our site footer to report an issue.