Cardinals' Hall of Famer Larry Wilson (left) and first-round pick Dominique Rodgers-Cromartie visit the Hall of Fame exhibit for former Cardinal Pat Tillman Friday.
A couple of years ago, Michael Irvin came home one day to see his young son having posted on his computer a new screensaver – a photo of the former Dallas Cowboys receiver giving one of his famous "first-down" poses during a game.
Irvin was surprised. Where, he asked his son, did you get that picture?
"I googled you, Dad," Irvin son replied, and Irvin's heart hit the floor. This time, his son just found a photo. But there were so many shameful things Irvin had done that could be found through an Internet search.
This is what was going through Irvin's mind when he, over a series of conversations with NFL commissioner Roger Goodell during Irvin's Hall of Fame induction weekend last year, suggested young NFL players needed to visit the shrine in Canton, Ohio.
The program was instituted this year, with every NFL team's rookies going on a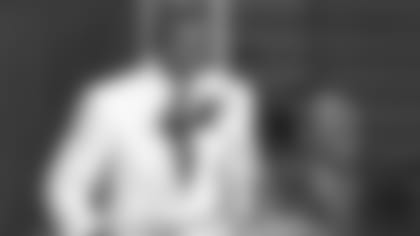 It was a trip Irvin wishes he could have made once upon a time.
"The day I walked through the Hall of Fame (last year), I told myself, 'I should've come here first,' " Irvin said by phone from Dallas.
During his talks with Goodell, Irvin praised the commissioner for his new crackdown on players who got into trouble. But, noting that the NFL got involved in the "back end" of a player's issues, Irvin asked Goodell if there was a way "to get in on the front end."
That's when he broached the idea of visiting the Hall.
"A lot of these guys at 21 and 22 (years old) don't understand what you can regret at 41 or 42," Irvin said . "You make a mistake, it will be on the Internet, and kids will read about it.
"The truth of the matter is a lot of these guys don't know the history of the game. They are playing the game to escape their history. Some of them come from the ghettos, from the slums, they want to forget. Now if they are taught this history (of the NFL), maybe they will realize how blessed they are."
Irvin's troubles off the field were well-documented over the years, enough so that he thought it might have cost him a chance to make the Hall of Fame.
When he was inducted, he rehashed many of his faults through an emotional and memorable acceptance speech. While the NFL credited Irvin for inspiring the rookies-to-the-Hall concept, he was quick to deflect such talk, referring back to his personal demons.
"This (idea) came from my constant pain," Irvin said. "And my constant regret."
The message seemed to get through to the Cardinals in Canton.
"This motivated me to be here one day," said defensive end Calais Campbell, before the rookies headed to the airport to return to Arizona. "I'm a guy who stays out of trouble, but this makes you want to carry on the NFL tradition."
The Cards' rookies were accompanied on the trip by one of the franchise's own Hall of Famers, former defensive back Larry Wilson, who talked with the players through the tour. Campbell said the visit was better than he expected as he learned that only 214 of the greatest players – out of some 20,000 players to have played in the NFL – were enshrined.
Wide receiver Early Doucet said he learned about the first African-American players in the NFL, and was left impressed with the various uniforms, busts and game footage that added to the "once-in-a-lifetime experience."
"We got to see how some of the past players paved the way," Doucet said. "You definitely think about yourself, how your decisions now can affect later on, how maybe one day you could be inducted – or just how you will be remembered on and off the field."
Those are the kind of thoughts Irvin was hoping were generated from the program.
When Irvin found out the league included his name in the press release last week announcing the visits, "it just blew my mind." Irvin said he was going to get a copy of the release and frame it, as a symbol that he can still make a difference.
"To me, I will spend the rest of my days trying to make up for the things I did," Irvin said. "I brought shame on myself, my family, my friends, the game. I want to try and fix it. I think about it all the time, 'What can my role be?' "
Bridging the gap between older and younger players seemed natural. And the Hall of Fame was the perfect place to do it.
"You can't walk through the Hall without chills running down your spine," said Irvin, who will accompany the Cowboys' rookies when they take their visit. "There is no one out there with a bigger ego than me. If I got emotional, they will too." * * * Contact Darren Urban at askdarren@cardinals.nfl.net. Posted 5/30/08.
This article has been reproduced in a new format and may be missing content or contain faulty links. Please use the Contact Us link in our site footer to report an issue.