Tyler Sigler and Emmalynn Lincoln got engaged last May and excitedly mapped out their idyllic wedding and honeymoon.
The plan was to get hitched in Grand Rapids, Michigan on May 31, 2019, and two days later, take a weeklong trip to St. John, one of the breathtaking U.S. Virgin Islands.
The Siglers followed through on the first part, tying the knot at Seymour Christian Reformed Church on a picture-perfect evening four Fridays ago. But the subsequent week on the beach never happened.
"Luckily my wife is a very loving, forgiving and kind person," Tyler said.
Nineteen days before holy matrimony, Sigler, an undrafted free agent safety out of Division III Wheaton College, tried out for the Cardinals at their rookie minicamp.
He hadn't made the cut in an earlier audition with the Giants, and in reality, this was probably the last chance to continue his football career. Despite the long odds, Sigler impressed the Cardinals, who signed him to their 90-man roster.
It was great news for his football dreams, not so for the honeymoon plans.
"We just assumed that by the time of the wedding, that if this was working out, he'd be done for the summer," Emmalynn said. "But then last fall I met Tyler's agent for the first time, and he told us, 'You'd probably have to go right back to practice the Monday after your wedding.' We were like, 'OK… we'll figure this out.'"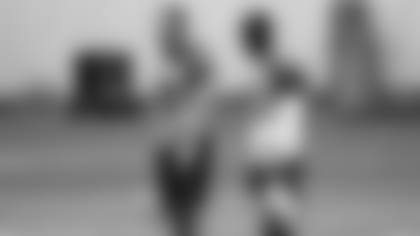 The Siglers canceled their flights to St. John when Tyler signed. The wedding was still a go, even though it meant missing practices on Thursday and Friday.
"Luckily the coaches here were incredibly patient," Tyler said.
With permission granted, the Siglers prepared to enjoy their weekend -- but faced another hurdle when a later-than-expected Wednesday practice threatened to keep Tyler in Phoenix overnight.
"I was making a joke with his mom, like, we can't have the groom not present at the rehearsal dinner," said Emmalynn, who arrived in Michigan before Tyler. "He had to change his flight and so there was this madness going on. His mom was looking up a flight for Thursday morning and he wouldn't have landed in Grand Rapids until like 12 or 1 (p.m.). I was like, 'There is no way. You can't fly in (that late). You'll be so jet-lagged three hours before rehearsal.'"
Tyler eventually found a flight out of Phoenix on Wednesday night. Emmalynn and her bridesmaids picked him up from the airport at 1 a.m. Thursday morning, and all of the festivities went off without a hitch.
"Every day around our wedding day was rain and thunderstorms, except for our wedding day," Emmalynn said. "That Friday was very sunny and very nice out. It was a great day."
Afterward, instead of heading to St. John, Tyler and Emmalynn drove to Chicago on Saturday and then flew to Arizona on Sunday. By Monday – just like his agent predicted -- Tyler was back with the rest of the rookies.
"What a crazy week," Emmalynn said.
It's been an unconventional start to their marriage, but the newlyweds are happy for the Arizona detour. Colleges were more interested in Sigler's baseball skills coming out of high school, but he went to Wheaton so he could play both sports, and sticking with football paid off.
"I just think of the 5-year-old version of him who watched his dad coach football and loved playing football," Emmalynn said. "And just thinking of how proud little Tyler would be of where he's at today. That gets me really excited. I'm really proud of him for that. It's really fun for him to experience this stuff that we talked about years ago when the first scout came to watch him."
Sigler received some attention heading into 2017 but played only one game before breaking his foot. When he proposed to Emmalynn after the season, he figured the injury had torpedoed his NFL shot.
"It was somewhere in between a dream and a maybe a year ago," Tyler said. "I thought I would go work at a finance job or a sales job."
That's why the honeymoon got double-booked, and why Tyler has been trying to make up for it during any slivers of free time the past few weeks. He and Emmalynn enjoyed a stay-cation by South Mountain soon after the wedding and recently took a three-day trip to San Diego.
"We're trying to break it up into small honeymoons," Tyler said. "I promised her a two-week honeymoon by the time everything is said and done. It's coming in the future."
While the big trip will assuredly be worth the wait, the Siglers don't want the opportunity to present itself too soon. As long as Tyler is tied up at work, it means his NFL dream is still alive.
"When we were first dating a couple of years ago, we probably didn't picture it happening this way," Emmalynn said, "but that's always where great things happen."